North Texas officially became Ebola-free as of Friday evening, capping off 38 days of monitoring for symptoms initially touched off when the nation's first patient was diagnosed in Dallas with the potentially deadly virus.
The last person being monitored for symptoms of the virus was cleared Friday night, Dallas officials said. That person handled medical waste.
It's official. This evening's final monitoring check is done. No symptoms. We are happy to close this Ebola chapter with Dallas tonight. — DSHS Press Office (@TexasDSHS) November 7, 2014
"It's incredible. It's a big answered prayer," said Dallas County Judge Clay Jenkins. "Thanksgiving comes early for those of us here in Dallas because the Ebola crisis will be over."
U.S. & World
News from around the country and around the globe
The Centers for Disease Control and Prevention team in town to help local health officials with the Ebola response left last Saturday.
The crisis began when Thomas Eric Duncan tested positive for the virus Sept. 30. He died 10 days later at Texas Health Presbyterian Hospital Dallas, on Oct. 8.
Texas Christian University graduate Nina Pham, one of the nurses who cared for Duncan, tested positive for the virus Oct. 11. Amber Vinson, her colleague who also treated Duncan, tested positive for the virus four days later. Both have since recovered.
"Today is particularly joyous because our two hometown healthcare heroes have recovered and no one else got sick," Jenkins said.
CDC officials said they monitored 177 people overall who had contact with Duncan, Pham and Vinson.
"It was a very difficult and tense time for everyone," Jenkins said.
Dallas Mayor Mike Rawlings echoed Jenkins' statement saying, "It's been a challenge, and there have been moments of frustration throughout this difficult process."
Health officials said they will investigate how the Ebola virus was handled in North Texas and plan to issue a report in the coming weeks.
"We're much better prepared in America because of what happened in Dallas than we were five weeks ago," Jenkins said. "Disease knows no borders, and we've got to have a good plan in place for when this happens again."
Rawlings said he's been looking forward to Dallas being "Ebola-free" and is thankful the monitoring period for all contacts is over.
"I'm proud of the citizens of Dallas for learning the facts about Ebola and staying calm. And I'm especially thankful to all the brave healthcare workers who put their lives on the line to help others, including Nina Pham and Amber Vinson, who are true heroes in this city and around the world," Rawlings said.
Ebola Threat Timeline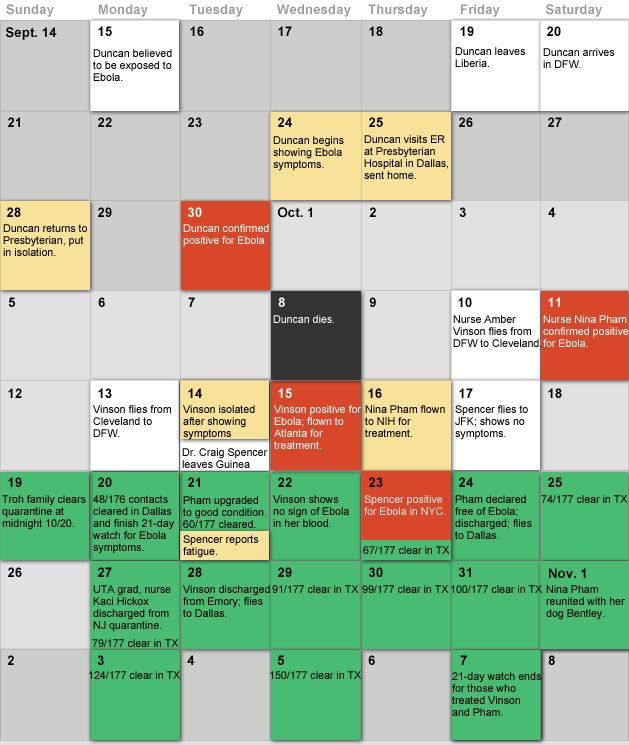 And as much of North Texas breathes an Ebola-free sigh of relief, so does a group in Fort Worth who cleaned the most infected areas.
The cleaning crews were never on any official watch list, but they were always self-monitoring for any possible symptoms.
"Presbyterian was the hottest zone we were in," said Brad Smith, manager of CG Environmental. "That was the most intense time. We went into a room where they had done everything they could possibly do to save this man's life."
On Oct. 13, the cleaning crew wrapped up work at Presbyterian Hospital, where they cleaned up the room where Duncan had died.
They also cleaned up the rooms where Vinson and Pham were treated before being flown to new hospitals for Ebola treatment.
The cleaning crews began self-monitoring for signs of the virus immediately and continued every day, checking their temperatures.
"They also backed it up by calling in or texting the office what the temperature was and what time they took it," Smith said. "Everyday I prayed and said, hey, I want my guys to be safe."
Now that fear is gone for the group and the rest of North Texas.
The following message was distributed Friday to all staff and employees of Texas Health Presbyterian Hospital Dallas:
"Today, the monitoring period for those who participated in the care of our patients with Ebola Virus Disease ends. All of our caregivers and other employees related to the events of the last six weeks, along with their friends and loved ones in the community, are formally cleared of risk.
We are grateful that two caregivers who shared the fight against this insidious virus are healthy. These two courageous nurses, and so many others, put the needs of a patient first and valiantly worked to save the life of a man who faced, and ultimately lost, his battle with this disease. Today we remember and honor him, and his family remains in our hearts and prayers.
We emerge from this experience both humbled and empowered with a new strength of purpose. We are committed to using what we have learned to advance our mission and vision in the communities we are privileged to serve. We will continue to share our learnings with the healthcare community nationwide, and we hope our experience will also help those in the global community who are working so hard to beat this terrible disease in West Africa.
Finally, we are thankful for our community, whose support continues to fortify us as it has for nearly 50 years. The confidence placed in us even as we face challenges is heartening, and we pledge to reaffirm that trust as we move forward."