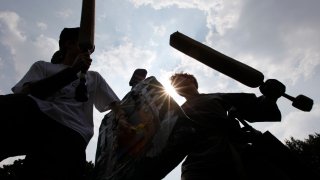 An Ohio man, who played the live-action role-playing game Dagorhir, delivered a pipe bomb to severely wound the boyfriend of a woman who spurned his romantic interest, authorities said Thursday.
Clayton Alexander McCoy, 30, a resident of Chesterland, was arrested and charged with transporting an explosive device with intent to injure and using a destructive device in a violent crime, according to a federal criminal complaint.
The victim was seriously injured after opening a package bomb inside his Manchester, Maryland, home on Oct. 30, authorities said.
Dagorhir is a live-action role-playing battle game with full-contact melee fighting between players wearing medieval-style garb and wielding weapons made of foam or other lightweight, harmless material.
U.S. & World
News from around the country and around the globe