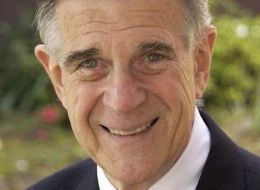 California's Congressional Democrats find themselves in an increasingly embarrassing situation. Pete Stark, a 40-year veteran from Northern California, finds himself threatened by another Democrat.

Stark is not your typical incumbent--he's the 6th most senior member of Congress. Long a champion of liberal causes, Stark has fought for health care and a number of social welfare programs.
He's lambasted farm subsidies and corporate tax breaks. In the heat of the Iraq war, Stark accused Republicans of sending young American soliders to war "to get their heads blown off for the president's amusement."
He doesn't mince words.

In the 2010 election, Stark won with 72 percent of the vote. And in 2012, he has the support of virtually the entire liberal Democratic establishment. Still, the threat looms.

What gives?

Always a man with strong opinions, Stark increasingly has been criticized for intemperate remarks in Congress.

His behavior has taken its toll. In 2010, after the sudden resignation of Ways and Means Chairman Charlie Rangel, Stark should have had the job because of his seniority. Yet, he was not chosen.

Now Stark may be in trouble at home. Courtesy of post-census redistricting, Stark is new to more than half of the voters. Add to that California's new "Top Two" primary, which has the highest two vote collectors in June racing off against each other in November, regardless of party affiliation.

Starks's principal opponent is Eric Swallwell, a 31-year old Democrat from the new part of the reconfigured 15th congressional district.
U.S. & World
News from around the country and around the globe
An Alameda County assistant district attorney, Swalwell refers to himself as a "law and order" Democrat, a description that may serve him well in a new district that is more conservative than Stark's previous stomping grounds.

The lone Republican in the race has little more than a symbolic candidacy.

Stark has gone on the offensive. In debates, he accused Swalwell of taking bribes from a local developer, with no facts to support the claim. Stark also belittled Swalwell for a poor voting record, yet records show that Swalwell has never missed a vote. Swalwell hasn't missed a beat either, referring to Stark's behavior as "bizarre."

Meanwhile, Democrats are depressed about the entire episode. Most worrisome is that the circus will play out twice--in June and then again in November. All of which begs the question, if Swalwell gets a good chunk of the vote in June, how many Democrats will jump ship?

The story is far from over. But for now, Democrats would be a lot happier if it just went away.

As for Republicans, while they have no hope of winning the seat, they have a great opportunity to embarrass the Democrats for protecting Stark with their endorsements. In that sense, the 15th congressional district brawl has the potential to reverberate throughout the state. On that score, Republicans are licking their chops and may "win" regardless of the outcome.

Larry Gerston teaches political science at San Jose State University and political analyst at NBC Bay Area. His latest book is Not So Golden After All: The Rise and Fall of California.