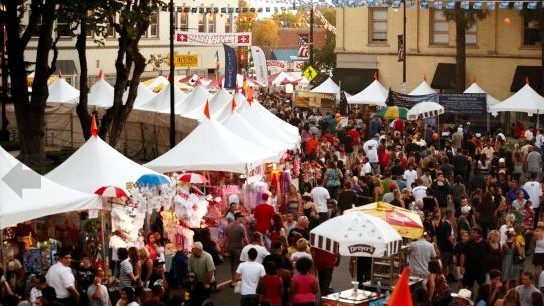 40 YEARS OF FOOD: When other Southern California street festivals geared towards foods of the world look for inspiration, they surely look to Orange. Not only is food in the very town's name -- please, that's a total sign that the eats'll be tasty -- but the Orange International Street Fair has been around now for four decades. Meaning it kicked off in 1973, and has kept the grills and pots sizzling around Old Town Orange ever since. Now the food party, which unfurls from the centerpoint of Old Town Orange, is back again for another Labor Day Weekend party. The 2012 dates are Friday, Aug. 31 through Sunday, Sept. 2 (so no Monday, Sept. 3, note.)
WHAT IS COOKING: Cuisines of the world get the focus, but the fair is a street-food thing, so don't look for anything too over-the-top or that can't be eating while standing holding a paper cup. Street food of the global sort has been again trendy in recent years, so call the International Street Fair one of the committed proponents. Oh, and the regions of the world are broken down by "streets" or "signs," so if you're looking for Polynesian or Italian or Mexican or Danish, look up (or look at this handy map).There are "15 ethnic streets" in all, says the fair.
OLD TOWN ORANGE: We're not sure that the fair is the best time to visit the village on a general, no-crowds outing, but if you haven't been to Orange -- that can't be true -- you love Orange, yes? -- definitely pay it a visit over another weekend, especially if you adore antique shops or you have a visitor who can't believe that SoCal is still home to some old-fashioned, Americana-sweet towns.
Copyright FREEL - NBC Local Media