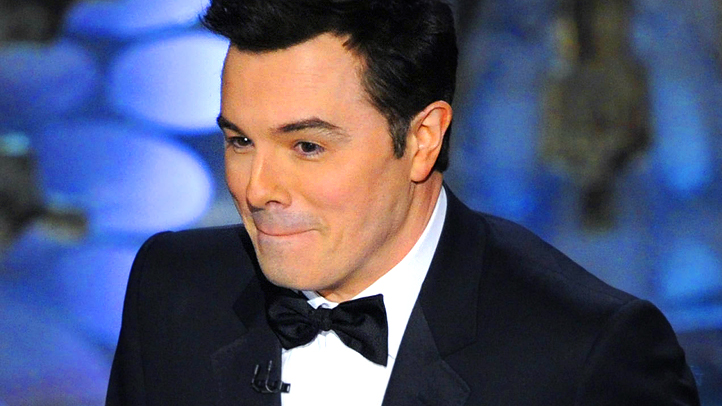 Seth MacFarlane and Tina Fey, two very funny people who share little else than a fondness for cutaway gags, both offered the same two-word response this week when asked about hosting the Oscars next year: "No way."
The similar reactions conveyed the sad truth about Oscar humor: Hosting a show filled with thank-you speeches has become a thankless task.
Just ask David Letterman, whose 1995 shot at the world stage ("Oprah, Uma. Uma, Oprah.") earned him perhaps the worst reviews of his career. Oscar hosting triumphs also have eluded other top talents, among them Jon Stewart and Chris Rock.
James Franco's multifaceted career has become defined, in some respects, by his somnambulant performance in 2011, and it took winning an Academy Award Sunday for his perkier partner Anne Hathaway to put their dual disaster behind her. Even greatest living Oscars host Billy Crystal couldn't quite conjure the old magic last year as a late-in-the-game fill-in for Eddie Murphy, a great pick for the job.
The scarcity of entertainers well known and witty enough (musical ability a plus) to jump in to the Oscars shark tank limits the hosting pool. Judging by MacFarlane and Fey's reluctance, another barrier is finding a big star willing to work for weeks on what's essentially a 15-minute opening act rife with outsized expectations and critics ready to tweet any misfires in real-time.
The choice of MacFarlane, who offended some with his "Family Guy"-honed brand of bawdy humor, likely was inspired by the caustic barbs Ricky Gervais hurled during the Golden Globes from 2010 to 2012. But even the now buzz-worthy Globes, as Fey, no doubt will tell you, is a far more relaxed affair, in terms of prep time and audience expectations.
Hester is founding director of the award-winning, multi-media NYCity News Service at the City University of New York Graduate School of Journalism. He is the former City Editor of the New York Daily News, where he started as a reporter in 1992. Follow him on Twitter.
Copyright FREEL - NBC Local Media