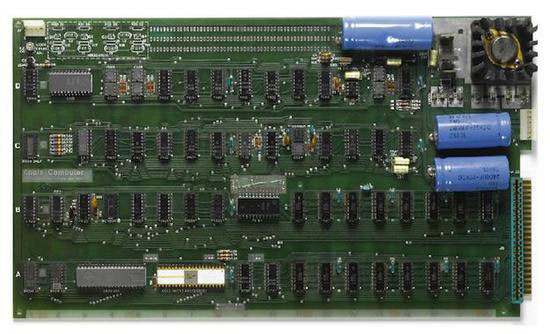 If you're a serious Apple fanboy, then you'll probably want to own one of everything the boys from Cupertino have ever made. Now is your chance to get the holy grail of all Apple collections, an original Apple I computer.
The Apple I was made for just a little over a year in 1976 and 77, and every one of the 200 or so built were hand soldered by Steve Wozniak himself. It is thought that about 40-50 of those still exist, resulting in some crazy prices when they change hands. A couple of years ago one sold for about $210,000, but it's thought that the price was boosted by literature including hand signed letters from Steve Jobs with his parent's address on the letterhead, and a receipt listing the salesman as "Steven."
The one that Sotheby's will be auctioning on June 15th comes with a pile of paperwork too, but nothing signed by anyone significant. In addition to the processor, you get the Apple I cassette interface that lets you load programs from old-school audio cassettes. Of course like all Apple Is, the computer comes as just a bare circuit board, you have to supply your own case, keyboard, and monitor.
U.S. & World
News from around the country and around the globe
The pre-sale is $120,000-180,000, but if this sounds a little pricey, you can always build your own.
For the latest tech stories, follow us on Twitter at @dvice
Copyright DVICE - DVICE