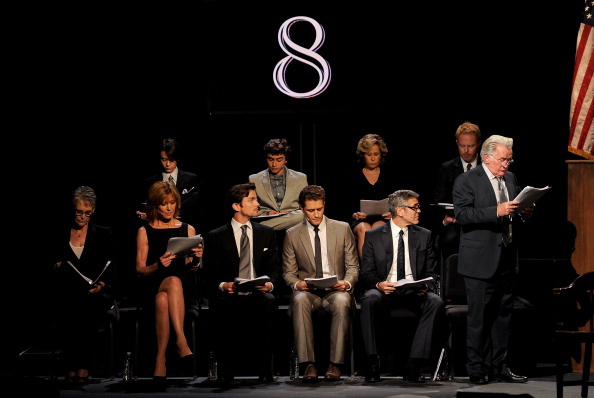 Having George Clooney and Brad Pitt on your side is something. But having them on your side in a courtroom drama is something else.

Saturday night, Clooney played a lawyer and Pitt a sympathetic pro-gay marriage judge in a reading of "8," a play written about the historic Perry vs. Schwarzenegger trial, in which gay marriage ban Proposition 8 was put on trial.

The play had a one-night-only reading on Saturday night in Los Angeles. Martin Sheen, Jamie Lee Curtis, Jane Lynch, Kevin Bacon, "Glee" star Chris Colfer, and John C. Reilly also played roles -- the latter as a bumbling expert witness who testified on behalf of supporters of the gay marriage ban.

The play was written by Dustin Lance Black, who won the Oscar for Best Original Screenplay for "Milk," the tale of slain San Francisco supervisor Harvey Milk, one of America's first openly gay elected officials.

Lawyers for the ban supporters successfully blocked video transcripts of the trial from broadcast, so in a way the play -- which is admittedly a bit biased -- is an act of "revenge" on behalf of the millions of Americans left in the dark, it was reported.
Copyright FREEL - NBC Local Media