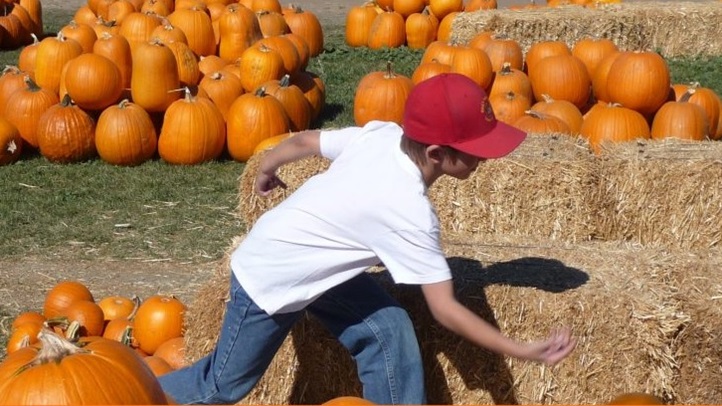 AUTUMN ORDER: When something only comes around during a particular season, and you only get to enjoy it once or twice a year, a particular order falls into place. Take visiting the Big Horse Corn Maze and Harvest Festival in Temecula. We'll just bet that you and your family members have the order in which you try out all of the activities down pat: First, a visit to the corn cannon, then pumpkin bowling, then piglet races, then the corn box, and then the big corn maze. We do love our traditions come the holiday time, and how we approach a mondo harvest festival is no exception. And, of course, the visit to the pumpkin patch is probably the very last thing you do, before departing, because hauling your purchased pumpkin through all of those corn stalks is not on the game plan. Are you ready?
GOOD... because Big Horse, which is billed as "the largest true corn maze in all of California," makes its fall debut on Saturday, Oct. 5. Like at all the big patches, weekends heat up on the harvest festival activity front, but you can visit on the more-chilled-out weekdays, too (Big Horse keeps afternoon open hours).
WE'RE TEMPTED BY... hay wagon rides. Naturally. The hay wagon is one of the symbols of the season, so if you really want to get your fall on, you're gonna plunk down on a hay barrel, right? The aforementioned corn cannons are very satisfying to wield as well (the "thwunk" that the corn makes as it leaves the cannon is a sound very particular to autumn). The corn box, which is, wait for it, a box of corn, is quite the photo opportunity; picture little faces peeping above the kernels. And, of course, the big maze, where the stalks reach from six to eight feet tall. It's kind of a gas to get a little lost, as long as you're with people you like, right?
U.S. & World
News from around the country and around the globe
SPECIAL EVENTS: An opening day car show and a Courage of Colors 5K run, which supports the Gary Sinise Foundation are also on the roster. (The run is on the 19th.)
ADMISSION: The pumpkin patch is free, the maze is nine bucks, and there is an activity-maze ticket, too. Big Horse Corn Maze and Harvest Festival is on from Oct. 5 through Oct. 31.
Copyright FREEL - NBC Local Media