Recycling is important for Feleti Romero and her family.
"We think of it as a way to help the planet," Romero said. "There's so much pollution and so much going into the ocean."
They take extra steps to do it right - from reviewing the labels to make sure materials are recyclable to cleaning them before they go into the bin.
"We have created the habit for the family," she said.
Their blue bin is full by Friday when a truck picks it up from their Weston home.
It's a routine in homes across South Florida, but one that is getting harder and more expensive for cities to do.
U.S. & World
News from around the country and around the globe
Daniel Stermer, the mayor of Weston, is concerned about the direction of recycling in Broward County.
"It's problematic," he said. "Our recycling numbers have actually been plummeting."
State records show that the county was recycling 45 percent of its waste in 2013. It went down to 33 percent in 2017. These numbers don't include additional recycling credits for waste that is burned at incinerators to produce energy.
"Many things that people think are getting recycled are not," he said.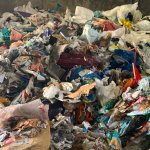 From numbers provided by Weston, about 18 percent of the city's waste from the curb, so far this year, is recycling.
When asked how much of what's picked up at the curb actually gets recycled, the mayor said he didn't know.
That is, in part, because it's not up to him to decide what happens with anything picked up at the curb since the process is done by a private company.
"Once the waste hauler takes your blue bin and puts it in the truck, it's their obligation to make it go away," he said.
The city's hauler is Republic Services.
The company told us they drop off what's picked up in Weston at a recycling center in Pembroke Pines - the largest in the southeastern U.S.
Waste Management, the leading recycling company in the country, runs the facility.
Inside the Pembroke Pines facility is a giant warehouse with mountains of what is supposed to be recyclable piled up - waiting to be sorted and packed to be sold. The materials come from more than 50 cities in South Florida, including Weston.
Waste Management says about 30 percent of items coming into the facility won't be recycled and they blame contamination for it.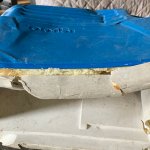 Shiraz Kashar, a company's community relations specialist, defines contamination as "anytime a person puts materials in the recycling that are not accepted in the program - that's not supposed to be in there."
An audit performed by Waste Management shows that close to 20 percent of the recycling that was picked up from Weston between February and March was not recycled because the materials were trash, wet or packed in plastic bags.
"We need to get much smarter and we need to communicate better to our residents and our businesses what proper recycling is," Stermer said.
Kashar pointed out items in the pile that couldn't be recycled – toys, bathroom curtains, plants and coolers.
"Material like this certainly slows down the recycling process," Kashar said.
On some days, Kashar said this facility has to stop its operations as many as six times to clear contamination from the equipment. Workers have to manually remove plastic bags wrapped up in the sorting machines.
"We need to get much smarter and we need to communicate better to our residents and businesses what proper recycling is," Stermer said.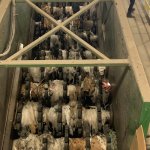 JeanMarie Massa, the manager of Miami-Dade County's Department of Solid Waste Management, echoes the sentiment.
"We have gotten amazingly crazy things in the recycling cart," she said.
Massa says many people are doing what she calls "wishful recycling."
"They say I wish this could be recycled. It's good, it's not broken, maybe someone could use it," she explained.
The problem has gotten so bad that the county has launched a social media campaign to show some of the things placed on recycling bins, using #cartoftheday.
Massa says the biggest culprits that contaminate the process are plastic bags, pizza boxes, batteries, tree trimmings and textiles.
In 2017, the latest state data available, the county recycled just 18 percent of its waste, not including additional recycling credits for waste that is burned at incinerators to produce energy.
Kashar says contamination is a challenge in every community they serve - environmentally and economically.
China, once America's top buyer of recyclables, stopped taking most of our country's recycling in part because of contamination.
"Material has to be more than 99 percent clean for material to get in there," Kashar said. "Now, if you have contamination coming in that's anywhere from 25 to 35 percent. It gets very, very difficult to get the material on the other end very clean."
Kashar says the company has found alternative markets in southeast Asia, India and Latin America. But they buy and pay less for the materials than China did.
The changes in recycling are driving up the prices paid for waste services.
In Weston, the city is paying almost double what they were earlier this year to get rid of its residential waste.
"It's impacting all of us," Stermer said.
But the mayor insists the community cannot give up on recycling.
"If we tell people to stop recycling, we are going to be in a peril. Once you tell them to stop, to get them to start again in the future, is going to be difficult," he said.
Weston is one of more than a dozen cities working with Broward County to improve recycling rates.
Stermer thinks they can do that by having more control of the recycling process.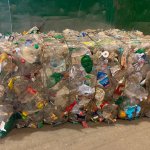 Feleti and her family are concerned about the future of recycling.
But they are committed to doing their part by improving their recycling habits and reducing waste at home.
"We cannot control the other part of the process, but we can control how much we put in those recycling bins," she said.
They say they've cut on buying plastic products and turn some of the household waste into organic material by composting.
"At the end, this is our planet. That's all we have. And we need to take care of it," she said.