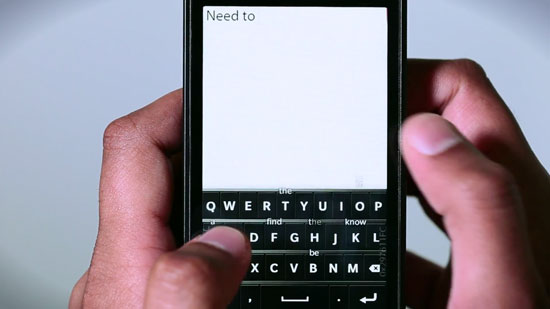 The BlackBerry is trapped in an infinite toilet swirl. Customers have left it in droves. Even RIM knows the BlackBerry is in deep trouble. This morning, the Waterloo-based company showed off its new BlackBerry 10 operating system along with a few bold new features, but is it simply catchup to iOS, Android and Windows Phone?
Despite showing no new launch hardware (only a generic 4.2-inch developer device), RIM's CEO Thorstein Heins focused on a few ideas that could put the once king-of-the-smartphone back in the running:
1) All touchscreen: Yep, moving forward, the physical keyboard is dead. BB10 is all about having a fast, smooth and smarter virtual keyboard. As you can see in the demo reel below, the predictive typing now smartly suggests your next word, actively trying to predict what you really want to type.
U.S. & World
News from around the country and around the globe
2) A smarter camera: The iPhone 4S and HTC One X and S's cameras are so good for phones that we're constantly blown away by the image quality. BB10 will have a great camera — one that allows users take photos by tapping anywhere on the screen as well let users choose the best shot with a time line scrubber that shows captured moments before and after each taken shot.
3) Gestures everywhere: One of the PlayBook's strongest features is its intuitive gestures activated by touching its bezel. BB10 will borrow some of the gestures to make switching between apps an easy affair. Multitasking looks like a breeze on BB10.
4) Better developer tools: As with the PlayBook 2.0 OS, BB10 will also support Android apps and will be the most developer-friendly BlackBerry OS to date backed by apps created with HTML5, Air Flash and CSS. Hurray for devs!
5) Gaming: RIM also talked up BB10's gaming strength. N.O.V.A. 3, a first-person shooter that rivals "console-quality" games will also debut with BB10 along with 10 other major games. RIM boasts that games can be ported from BB10 to the PlayBook in as little as one day — a feature that'll greatly help grow the amount of apps for both platforms because we all know that the BlackBerry World app store is seriously lacking in good apps.
6) Not just for phones: RIM isn't kidding around with BB10. Not only will the OS appear in its new BlackBerry smartphones (rumored for later this year), but it can also be integrated into connected cars over 4G LTE. Did RIM just beat Apple to an iCar.
The new RIM seems to have identified its flaws and is working to change that in BB10. While Thorstein seems to genuinely think BB10 will save RIM and the BlackBerry brand, we can't help but feel the company is now extremely late to the modern mobile party. Just ask Windows Phone how it's doing. It's not doing great. It'll take a miracle to turn around BlackBerry. It also doesn't help that RIM is the one behind the "Wake Up" flashmob that popped up at an Apple Store in Sydney.
Via The Verge
Copyright DVICE - DVICE