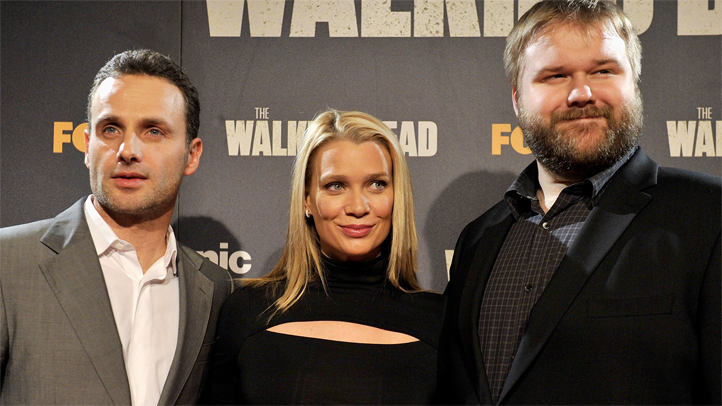 TV's scariest series is back!
"The Walking Dead" returns for a second season of zombiriffic horror on AMC Monday, Oct. 3rd, and executive producer Robert Kirkman – who also created and writes the Image comic book series the show is derived from – gives PopcornBiz the pre-mortum.
"The tone on the first season was dark, and I think we're going a little darker for our second season," says Kirkman, "so there's more danger; it's more intense – I think that it's going to be pretty rough! Our characters have a hard life ahead of them."
U.S. & World
News from around the country and around the globe
Sheriff Rick Grimes (Andrew Lincoln) and his group of zombie apocalypse survivors will continue to try to stay one step ahead of the Walkers, and their journey will lead them, as it does in the comics, to Greene family farm in the remote Atlanta countryside.
"We've got Lauren Cohan and Scott Wilson coming in playing Maggie and Herchel," says Kirkman. "They're coming in as our new characters that are on Herchel's farm, and it's a new place that the characters are coming to live for a while and the kind of wreck their lives in the process, so it'll be a fun thing to watch."
The writer/producer won't get too specific about which story beats from the acclaimed comics the story will follow and where it will depart, like the first season did. "It's hard to peg it down to like, 'Oh, it's this issue to this issue,' just because that kind of gives a lot away," he says. "But much like the first season, the comic book will act as a roadmap and then we'll be dancing in and out of that narrative as we move foreword in the television show. An interesting thing to note is that this largely covers the second volume of the comic book series, but there are plot elements from the first volume that weren't handled in the first season that'll actually be slipping in to this season. So there's just stuff like that that they're popping in there, but it's never a direct translation."
Kirkman also said all the dust has settled from the past summer's surprise departure of executive producer Frank Darabont, the noted film director who developed the series for televison (the precise reasons for the exit continue to be debated), and that the creative team has been hard at work to equal – and possible exceed – last season's creative standards.
"Everyone from the cast to the crew to the producers, everyone has just kind of buckled down in the wake of that and gotten behind Glen Mazzara, who's our new show runner, and just really put the pedal to the metal," says Kirkman. "We're trying to make the show as good as we can. And I think that because everyone is working so hard to honor Frank's legacy on this show and make this show as good as it can be what's coming out now, I think, is actually going to be better. So the show is actually improving, I believe."