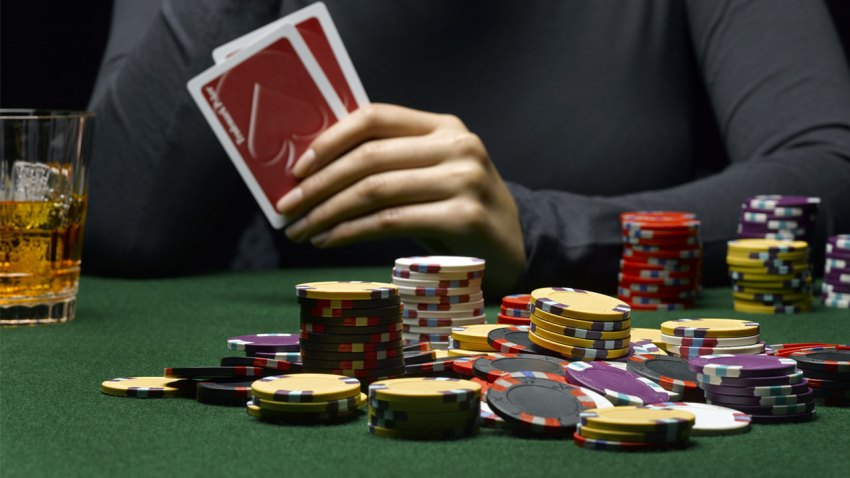 Gov. Arnold Schwarzenegger and the Legislature have been wrestling with ways to get the budget deficit under control.
The Dems want to tax business, the governor says no. The governor wants to slash even more social programs, the Dems say no.

This week, we learned another option is off the table: making more money from vices like Internet gambling and alcohol won't be happening in California anytime soon.

According to Senate Bill 1485, 1.5 million Californians gamble online illegally. According to the Poker Voters of America, legalizing online gambling could bring California between $2.4 and $6.1 billion over eight years. Sounds good for a state that's $19 billion in the hole, right?

Enter the Morongo Band of Mission Indians and other casinos and card clubs. They persuaded the sponsor of the bill, Democratic Senator Roderick Wright to cancel Tuesday's vote before the Senate committee. The bill required Internet poker network operations and their bank accounts to be located in California.
The Indian casinos and card clubs know that would bring outside interests and competition, like Vegas casinos and out-of-state gambling organizations. Mark Macarro of the Pechanga Band of Luiseno Indians testified that his tribe would "very seriously reconsider the revenue sharing provisions of the Amended Compact" if online games were legalized.
U.S. & World
News from around the country and around the globe
"...because clearly, the notion of people playing state-sanctioned Internet poker was not a market condition that was accounted for in our discussions," Macarro testified.
Meanwhile, Schwarzenegger proposed higher taxes on alcohol. Excise taxes on beer, wine and liquor haven't changed since 1991. More than 80% of voters support the Governor's plan, which would essentially charge an extra five cents per drink.
But the alcohol industry brings a powerful lobby, which has already scuttled this five-cent tax. Republicans are opposing all taxes, and Democrats don't have support of lawmakers from wine-making regions -- which means they don't have the votes to pass the measure.

So thanks to the political forces that be, California can forget about additional revenue from Internet gambling and booze.
Another vice will take center stage this November, when the public, not the politicians will vote on Prop 19 -- the measure to legalize pot in the state. The voters will have the chance to decide if marijuana should be legalized and taxed.