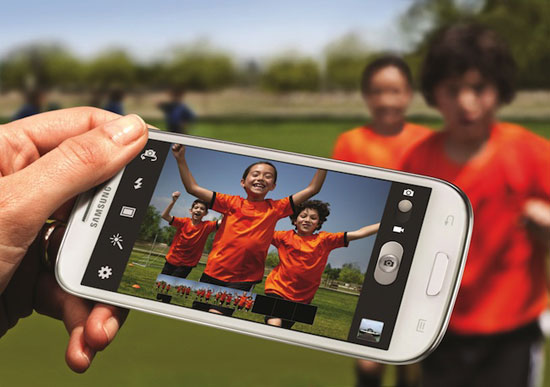 Android fans have much to be excited for today. Samsung just unveiled its much-rumored Galaxy S III smartphone. Beyond its larger screen, quad-core processor and beefy camera jammed into a thin chassis, the Galaxy S III is also clearly Samsung's response to the iPhone 4S's Siri.
The Lamborghini Of Android
The Galaxy S III is a smartphone of unparalleled power. It has a 4.8-inch Super AMOLED display that can output 1280x720 resolution, a 1.4GHz quad-core processor paired with 1GB of RAM, 8-megapixel rear camera (1080p HD video recording), 1.9-megapixel front camera, 16GB, 32GB and 64GB storage (expandable via microSD card slot), NFC, GPS with GLONASS, 4G LTE (for some carriers, although the international model will come will be HSPA+), 2,100mAh battery and of course, Android 4.0 Ice Cream Sandwich.
U.S. & World
News from around the country and around the globe
Samsung shoved all of that stuff into a phone that's only 8.6mm thick. Incredible.
Clearly taking cues from the Galaxy Nexus and Galaxy Note, the Galaxy S III is as powerful as it is minimal. The face only has three buttons: menu, home and back.
Siri, Is That You?
Nope, it's not. But it's close — very close. Using a combination of the Galaxy S III's cameras and mics, the smartphone can actually try to understand you. Samsung's Siri is called "S Voice" (overloading on the "S" naming, much?) It's weird, strange and will be very awkward because Samsung wants you to talk to your Galaxy S III by saying "Hi Galaxy!"
"The Galaxy S III is like a good friend who listens intently and responds quickly."
You can ask S Voice the weather, manage your schedules, launch apps, send texts and emails, and even take pictures for you. Would you rather not hit the snooze alarm button? Just say "snooze" to the Galaxy S III.
In terms of making the smartphone "see" you, Samsung has a feature called "Smart stay." Samsung says people hate unlocking their phones or tapping their screens to wake them up from sleep mode. Smart stay uses the 1.9-megapixel front cam to "see" your face and it'll unlock if it recognizes your face.
What about languages? No worries. The Galaxy S III understands eight different languages.
A New Camera King
HTC's One X just got a new rival in terms of packing an awesome camera. The Galaxy S III can take 20 photos in burst mode at a rate of 3.3 shots per second with zero lag.
Opening the camera app takes less than one second and can also be activated with a gesture by pressing and hold the screen and then rotating it.
Backside illumination ensures the camera can shoot in low-light conditions and advanced software allows intelligent face zooming and group tagging through facial recognition.
All Of The Other Goodies
The Galaxy S III is not a spec bump. Samsung's crammed so many new features into the Galaxy S III that we can't possibly go into detail on them all. Here are a few of the best:
Wireless charging via resonance technology (Samsung says it's the first to ever use this tech in a phone)
In-call sound equalizer
AllSharePlay (Samsung's version of AirPlay)
S Beam — tap two Galaxy S III phones together and BOOM — instant file sharing — movies, photos, music — you name it. It works via NFC, but is more advanced because it combines Wi-Fi Direct together with it.
Smart alert — Typing a text message out to your mom, but decide to just call her up? Raise the Galaxy S III to your ear and it dials her up.
So when does the Galaxy S III arrive? Mark your calendars, it arrives in Europe on May 29 and will arrive globally to 146 countries and 296 wireless carriers 10 days from then. It'll come in "Marble white" and "Pebble blue." Pricing will depend on carrier and region.
Chime in folks. Is the Galaxy S III everything you wished for? Is this the phone to kill all Android smartphones and iPhones? We're all ears in the comments below.
Via Samsung
Copyright DVICE - DVICE