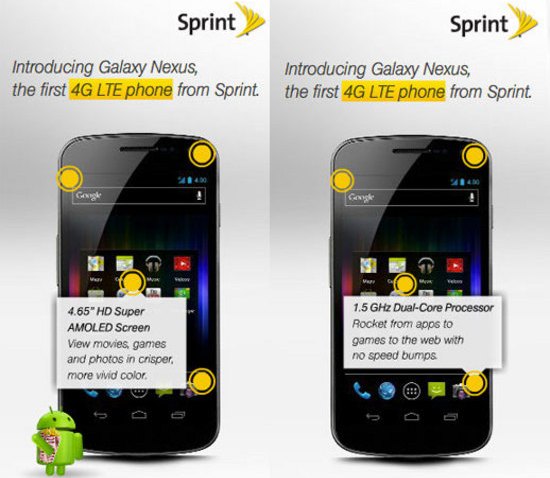 Ahead of any official Sprint announcements, an online ad on CNET popped up revealing the Galaxy Nexus will land on Sprint as the network's first 4G LTE smartphone. Looks like Verizon lost its exclusive on Google's flagship Android smartphone.
The ad is gone now, but thanks to the watchful eyes of the Internet, the image was saved.
Sprint's ad plays up the Galaxy Nexus's 4.65-inch Super AMOLED screen (1280x720) and 1.5GHz Dual-core processor. It'll still run Android 4.0 Ice Cream Sandwich and should be super fast on the Sprint's 4G LTE network.
U.S. & World
News from around the country and around the globe
According to TGDaily, unlike the Verizon version of the Galaxy Nexus, Sprint's model will support Google Wallet via NFC — a feature Verizon stripped out.
For consumers, it's great that they'll have more choice as to which carrier to pick from.
A few of my friends have the Samsung Galaxy Nexus and while it's a great-looking device, its battery leaves much to be desired due to the 4G LTE. As with most 4G smartphones, I've heard the Galaxy Nexus's battery barely lasts six hours on moderate use. Midday charges seem to be necessary.
Still, if you're a Sprint devotee, the carrier should be making an announcement on Galaxy Nexus availability at CES.
Via TGDaily
Copyright DVICE - DVICE