Twenty homes were evacuated Wednesday when a brush fire reignited in Santee.
Flames sparked up around 8 a.m. along the northwestern end of Willowgrove Avenue, west of Carlton Hills Boulevard, the area of a multi-agency response to a fire just hours earlier.
Flames reached the backyard of one home and officials said the winds were pushing fire closer to homes. The homeowner told NBC 7 there were at least 20 firefighters working to fight back the flames.
U.S. & World
News from around the country and around the globe
San Diego County sheriff's deputies knocked on doors and advised residents on the north side of the street about of the threat.
Neighbors were watering lawns and packing up cars. Other residents were outside their homes in their yards or driveways watching fire helicopters.
Cindy Rhoads lives two blocks from where the evacuations started and normally keeps an eye on the winds and weather and tries to be aware of the fire danger.
"Panicked, no. Prepared, yes," she said. "I'm not too concerned. The fire crews seem to have it handled really well."
She said she has pets and medications pulled together in case she needs to evacuate.
Dan Schirmer was hosing down his roof to keep it protected from embers floating in the wind from the fire across the street.
He said on Monday, he jumped in and tried to help protect a neighbor's cedar fence.

"I'm really concerned about everybody around me because all it takes is one ember If my neighbors are doing their due diligence and they get a little ember that floats over there and they're not keeping an eye on their house. The next thing you know I got a fire in the front, a fire in the back, a fire on the side, and so it can really get out of hand really quick," he said.
He said he was prepared to go and would leave if told to by firefighters.
Santee requested 15 engines from Heartland Fire to battle the flames burning just outside perimeter of the fire that burned four acres Tuesday afternoon.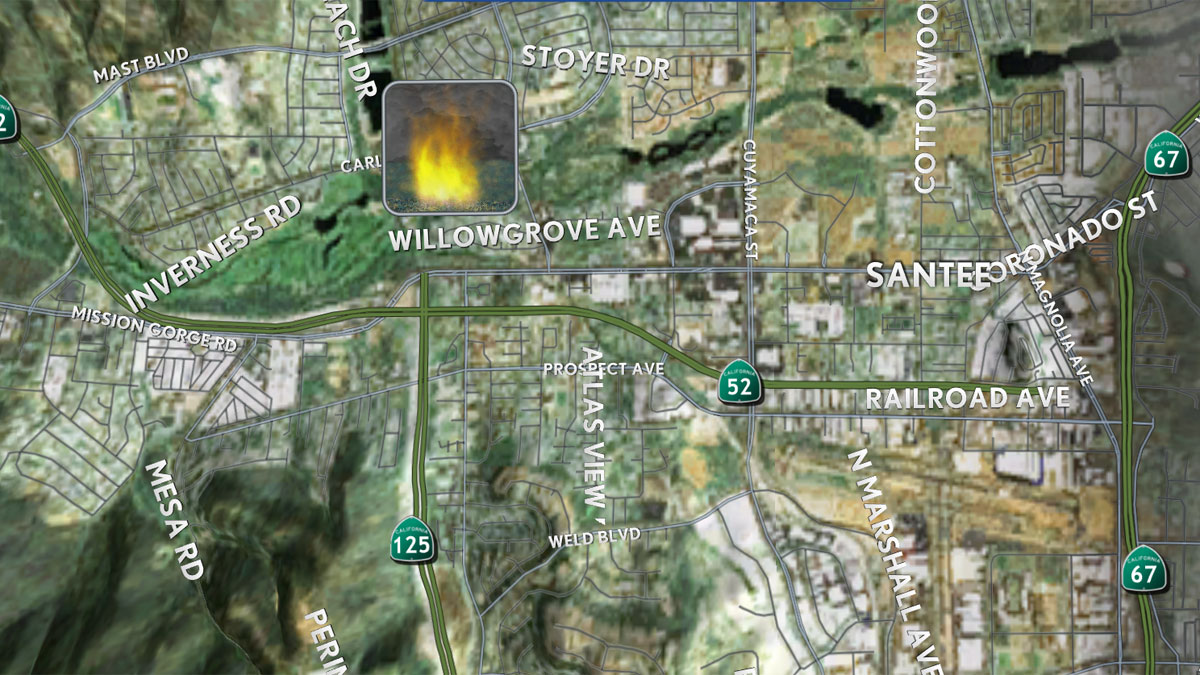 Firefighters battled the flames for more than two hours. There were some areas still smoldering as of 11 a.m.
Smoke was moving quickly because of the wind. San Diego County was under a high wind warning until Thursday at 5 p.m.
Chief Richard Mattick told NBC 7 fire season may arrive months earlier than normal this year.
"Fire season is really already upon us here," Mattick said. "We've seen that, having a hot week this week, high winds and everything, that's gonna continue to dry out anything out there that still has any moisture in it."
"I've seen no moisture in the horizon for us, so at this point it's going to be a very, very severe fire season we're looking at," he said."
SDG&E reported thousands of people were without power due to the strong winds. Get up to date outage information here.
Upload your images or video of breaking news here or tag with #NBC7Breaking on Instagram.