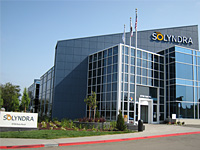 The failure of California's Solyndra Corporation is now known across the nation.
But beyond the 1,100 employees who were let go after a whopping $527 million in federal loan guarantees to the Freemont-based outfit, will there be collateral damage?
Most likely, yes.
U.S. & World
News from around the country and around the globe
The layoffs are bad enough in a state where the unemployment rate ratcheted up a tenth of a point in August to 12.1 percent, second only to neighboring Nevada.
But the problem could well impact a few elected officials nearby, particularly in an increasingly anti-incumbent year.
Among those in the Solyndra fallout crosshairs is Democratic Representative Pete Stark, first elected to Congress in 1972.
Now 80 years old and increasingly cantankerous or outspoken, depending on one's point of view, Stark's district includes Fremont.
Should the voters take out their frustration on their member of Congress, Stark would be first on the list.
A close second would be Jerry McNerney, whose current district includes the area near Stark, and who has risen to power on the backs of the alternative energy movement.
McNerney must move further east in 2012 because of redistricting. His new district will be less friendly to the green movement. Moreover, with higher unemployment than McNerney's current district, the new electorate may well express anger about misspent federal funds that could have been put to better use.
Suddenly, you can see why Republicans are feeling much better about their chances in 2012.
Of course, there's a bigger picture here, although most voters are not likely to appreciate it.
In fact, two other solar panel companies have gone under in the past few weeks, albeit not with the kind of federal funding that preceded Solyndra's demise.
The reason seems to be that the Chinese--who have become the largest solar panel-producing country in the world--are able to produce solar panels at a fraction of the costs in the United States.
In other words, American companies may not be able to compete in this manufacturing sector, irrespective of federal backing.
The state of the solar panel industry in general gets to wonkish questions like globalization and international trade.
But while economists and political scientists may gush over the implications of this broad picture, it won't matter a whit to those out of work and those fearing declines in their personal well-being.
Bottom line: the Republicans have a new poster child that illustrates questionable policy making and costly judgements by the Obama administration, and they're not about to let the issue die as long it hits home.
Let us know what you think. Comment below, send us your thoughts via Twitter @PropZero or add your comment to our Facebook page.