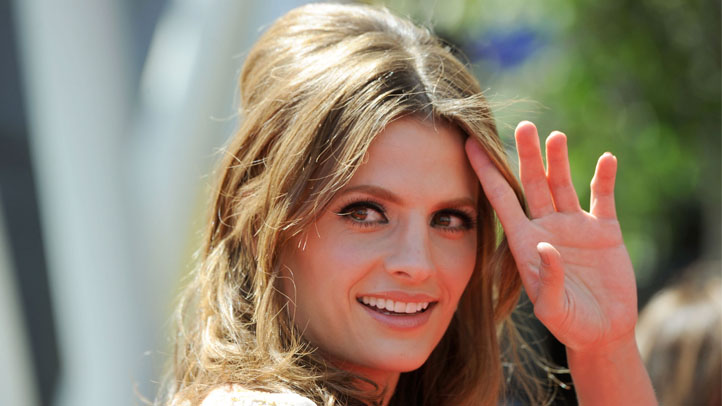 The "will they/wont' they?" dynamic that's charged "Castle's" central couple will be getting an extra jolt as a result of tonight's episode – and one that could finally jump start their relationship.
Stana Katic, who stars as Det. Kate Beckett on ABC's cheeky murder mystery, tells PopcornBiz that tonight's episode, "Kill Shot," takes her character down a dark path as a murderous sniper's reign of terror triggers her own post-traumatic stress disorder resulting from her recent shooting. But that shadowy turn may be the first step towards a brighter future.
"She faces one of her greatest fears and she says, 'I'm not going to choose this anymore," reveals Katic. "'I'm not going to choose living numbly because I want to bring justice to something that happened 15 years ago. I'm going to choose experiencing these wonderful gifts that are in front of me right now, and one of them is a relationship with Castle.'"
U.S. & World
News from around the country and around the globe
"With season especially we've really invested a lot of episode time to developing each of the characters," says the actress. "It's sweet to be able to take a moment to showcase or to shine a light on each character's life, so for 'Kill Shot' we get a chance to do that for my character Beckett, and kind of address some of the things that happened at the end of season three. I think it's a real honest way of approaching what was a traumatic event. Post-traumatic stress isn't necessarily something that the person who's experiencing is aware of: It kind of creeps up on you."
Fans of the long-simmering romantic possibilities between Beckett and mystery novelist turned police consultant Richard Castle (Nathan Fillion) – who professed his love for Beckett after she was shot and still doesn't know she was conscious enough to have heard him – should be prepared for the new road presented for the couple, Katic teases.
"I don't know if I would call them repercussions," the actress offers. "It's one step in the evolution of her relationship with Castle – a HUGE step. This season has been so much about secrets. She's been holding off on letting him know that she heard him say I love you because she wants to resolve her mom's murder case. She knows that without that she cannot invest fully. I think that this experience changes her mind about that. Then Castle has been holding onto the fact that he is trying to protect her and keep her from solving that case, because he knows that if she keeps going down that road she's going to get herself killed. So they both have secrets and they're both doing it in the best interest of the other."
Indeed, as the show begins shifting gears as a result of "Kill Shot," Katic's looking forward to finally breaking the sexual tension that's defined the show for three and half seasons. "I think that we're in a clear trajectory for a relationship," she says, "and I do believe that a show can survive getting into a relationship and all the complications that revolve around a new relationship, because I believe it's interesting and I believe in the romance and the sparkle of that experience. So I think that we have a little bit further to go, but I can't imagine going down the path of 'will-they-or-won't-they?' for much longer."
And she admits that, much like Beckett and Castle, she and her co-star have clashed philosophically over how such a major move will affect the show. "Nathan feels that, from how I understand it, the show banks on the tease of will they or won't they. I fall on the other side," she reveals. "I'm like, 'You know what? I don't believe that.' I believe that they will, and I believe that when they do it's still going to be as extraordinary as it has been up until now."
"Castle" airs Monday nights at 10 PM ET on ABC