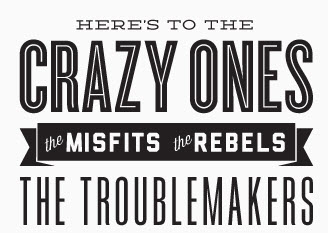 Steve Jobs thought differently. And in only one of Apple's stable of memorable television commercials can you hear his voice and his words. It's an elegant homage to "the crazy ones .. the square pegs in the round holes."
A charitable cause has taken this quote, almost wholly attributed to Jobs, and made an equally elegant poster of it, available framed and unframed. [Click here to view.]
The Acumen Fund -- whose aim is to tackle poverty issues -- will receive 100 percent of the proceeds from this limited-edition sale. The poster was produced by Brightwurks.
So now we can carry his visionary products in our pockets, lean back with them in bed ... and keep this quote on our walls.