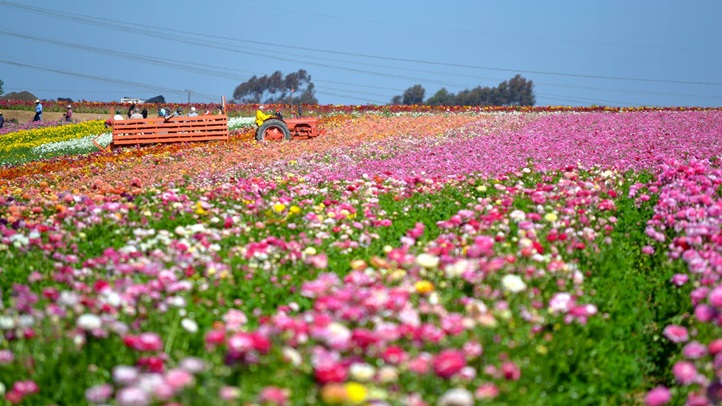 STROLLING THROUGH A BOUNTIFUL GARDEN... is the very tried-and-true activity that legendary Impressionist paintings have been built around. Picture the proper lady with her proper parasol, and perhaps a tiny dog, some soft rays of sunshine, and the grand and timeless act of the flower-admiring promenade. But sometimes we want to take to bud-bedecked plots of land in a fresh manner, one that isn't just about the saunter 'n sniff. The Flower Fields of Carlsbad, which have just about a month more to go -- they're open through Mother's Day, as is annual tradition -- have a few offbeat ways for petalists to get their fill of all that fabulous hue and eye-poppery.
THE FIRST METHOD? You can head out into the miles and miles of ranunculus via a tractor. Okay, nope, there aren't "miles and miles" of The Flower Fields's symbolic flower, but it just seems that way when you're chuggin, via an agricultural vehicle, through all the pink and yellow and red. You're actually on a wagon -- the tractor is at the lead -- giving you twist-around room to take in all of that flowerage. Doesn't that sound like a wholesome, picture-perfect, yee-haw-y kind of day out? We'd wear overalls, too, or gingham, to complete the scene.
SHOULD YOU BE LOOKING... for a different way to view the ranuculus, however, here's a way you can, right now: A video is giving fans the bird's eye view. While there are no daily helicopter rides over the Carlsbad destination, you can go on a flight, right now, right here:
U.S. & World
News from around the country and around the globe
Flower Fields, Carlsbad, CA 4/4/14 with DJI Phantom Vision 2 Quadracopter Pt.1 from D Lancaster on Vimeo.
Copyright FREEL - NBC Local Media