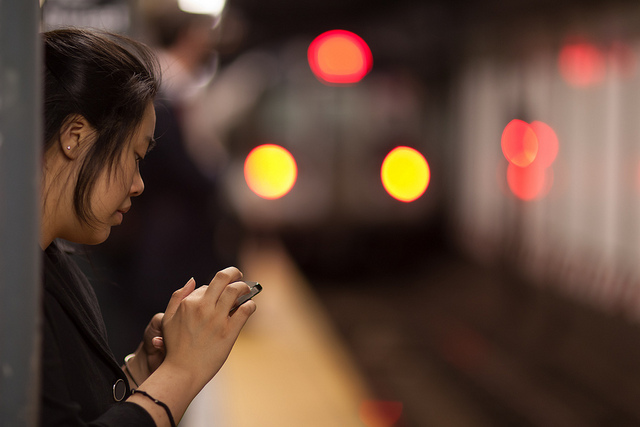 It's an iPhone/iPad crime wave! At least, that's according to an essay in the Wall Street Journal where Rolfe Winkler writes about chasing down an iPhone thief (and his subsequent broken jaw.)
However, it's unknown just how big the iCrime wave is, but the piece does say that out of 26,000 electronics thefts in New York City in 2011, 81 percent involved mobile phones, according to the Wall Street Journal. There are other statistics from Washington, D.C., that say that cellphone robberies jumped 54 percent from 2007 to 2011 -- but doesn't that also say something about cellphone use in general? Those numbers can also be because of the proliferation of mobile phones and not just simply rising crime.
There's a lot of anecdotal evidence of violent iPhone muggings, but the meat of the article is in the middle: the wireless industry is now fighting this mobile phone and tablet crime. Once a smartphone is reported stolen, an ID number goes into a database. When someone else tries to use the phone, it pops up on an industry blacklist and the carrier denies service.
U.S. & World
News from around the country and around the globe
Sprint and Verizon have done blacklisting for a while, but not AT&T and T-Mobile. However in April, both AT&T and T-Mobile will start a blacklist, and carriers promise to build a unified database by next year. Europe, Latin America and Australia already have such a database in place.
But worst of all is that Apple sometimes aids thieves by replacing damaged booty -- mainly because Apple warranties are "tied" to the device and not the owner. Apple commented that the company has "led the industry in helping customers protect their lost or stolen devices" including the "Find my iPhone" app that finds the phone and remotely wipes data from a missing device. (However, most thieves want the stolen iPhone or iPad wiped clean of apps in order to quickly sell them.)
Stealing an iPhone is a relatively easy prospect, especially in busy areas or on public transportation where users are so engrossed in their device they don't even bother to look up or around them. Someone passing by can quickly grab an iPhone and run, and easily get a few hundred dollars for a few minutes of work. However, this is hardly an iCrime wave. We see several dozens of people each day staring down at their smartphones and no roving gangs of iPhone thieves seem to be around.
That doesn't mean people shouldn't be aware of their surroundings or that someone could steal their iPhone or wallet -- but it it has not reached epidemic proportions.