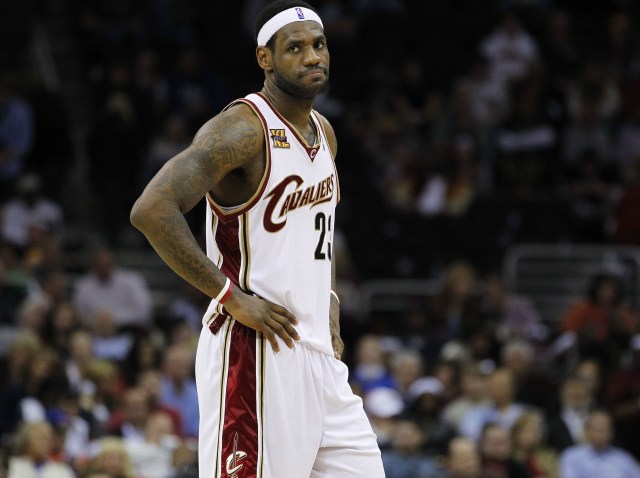 Welcome to Watch List, where we identify five things on TV to watch while you stay at home and plan your trip to the World Cup in South Africa next month. It should be lots of fun. BUT WATCH OUT FOR THE ALIEN PRAWNS! Only cat food will keep them at bay! LET'S GO!

CAVALIERS VS. CELTICS – 8:00PM (ESPN) Sports take the center stage tonight, as LeBron James and the Cavaliers face extinction at the hands of Boston. LeBron played horribly on Tuesday night as the Celtics took a 3-2 lead in the series, and now we are left with the possibility that this will be the final game James plays in a Cavaliers uniform. And if James should decide to bolt his home state (he grew up in Akron) for the bright lights of New York, I fully expect Cleveland to catch on fire and spiral down into a pit of economic despair from which there is no recovery. Then, Eminem will shoot a movie there. ANTICIPATION: WINNER LOSES TO DWIGHT HOWARD!

PARKS AND RECREATION – 8:30PM (NBC) Tonight's the big night at Parks and Rec as Rob Lowe and Adam Scott join for a multi-episode arc that will go through next season. Co-creator Michael Schur said Lowe could become a permanent cast member. Scott (THE EFFING CATALINA WINE MIXER!) will likely take over Paul Schneider's place in the cast for good. And yet, Detlef Schrempf only stays for a single episode. So very bittersweet. ANTICIPATION: HIGH

AIR FORCE ONE – 8:00PM (TNT) Watch this movie and remember to yourself that Harrison Ford hasn't made a truly good movie since "The Fugitive" back in 1993. Isn't that awful? What happened to this guy? Why do old actors like he and De Niro now all but guarantee a lousy two hours? Male stars used to age gracefully, like Paul Newman. I dunno what happened with Ford. I think aliens possessed his body. ANTICIPATION: GET OFF MY PLANE, GARY OLDMAN!

SURVIVOR – 8:00PM (CBS) The survivors jockey for time with loved ones. These people are loved? ANTICIPATION: CONJUGAL VISITS!

TRUE LIFE: I HAVE A PARENT IN PRISON – 10:00PM (MTV) His name is Bernie Madoff, and while you know him as that dirtbag who swindled people out of billions, I just think of him as Dad. ANTICIPATION: SAD!