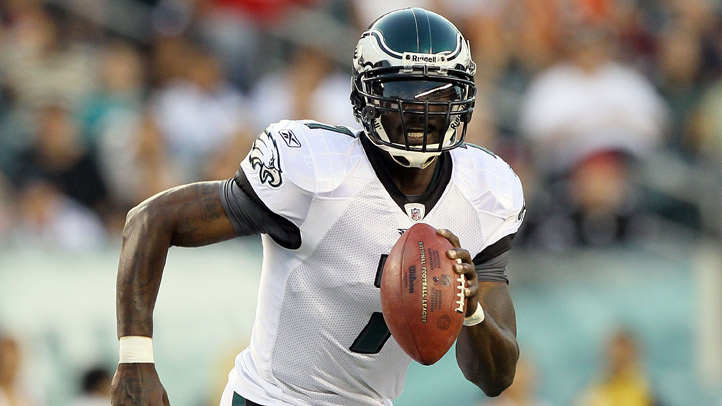 Welcome to Watch List, where we identify five things on TV to watch while you stay at home and eat haggis straight out of the can. LET'S GO!

EAGLES/STEELERS – 8:00PM (FOX) It's your first primetime look at Michael Vick this preseason, and the Eagles have surrounded him with an embarrassing amount of talented free agents (oh, and they signed Vince Young). Many people have already called this Philly squad a "Dream Team," and this is your first chance to see them utterly fail to live up to that moniker. Should be fun! ANTICIPATION: DOGGONE EXCITED!

DO SOMETHING AWARDS 2011 – 9:00PM (VH1) Coming in a distant second Logo Network's NewNowNext Awards in the category of "Weird Award Show Titles," VH1 brings back their annual salute to young people who do lots of good things for the community. Your host is Jane Lynch, because only horrible people don't like Jane Lynch. There will also be musical performances from the likes of OneRepublic, and I always see that group's name and assume it's a clothing line. Anyway, sit there and do nothing while you watch young people who have done the precise opposite. ANTICIPATION: DO GOODERS!

PROSTITUTION: LEAVING THE LIFE – 9:00PM (OWN) It's a two-hour special about hookers in Cook County trying desperately to leave the sex trade, a business they almost certainly entered out of either financial or personal desperation. You'll be rooting for them. ANTICIPATION: SAD!

HOOTERS SNOW ANGELS 2 – 11:00PM (Spike) Meanwhile, over on Spike, WAHOOOO HOOTERS GALS IN SWIMSUITS! Awesome! High five! It's exploitation with a side of hot wings! YEEEEHAW! ANTICIPATION: SHADY!

PROJECT RUNWAY – 9:00PM (Lifetime) Tonight, the designers have to create a fancy garment for cruelly indifferent judge Nina Garcia, who I think would declare herself bored even if she witnessed the Second Coming. And Nina has already thrown her weight around this season by more or less declaring her hatred for Anthony Ryan, who's probably one of the better contestants. I tell you, this woman is the David Stern of fashion. Always scheming. Always rigging the game. It's not right! I hope they design an iron maiden for her! ANTICIPATION: CROOKED!