As of Saturday, six major wildfires were burning in San Diego County, scorching an estimated 25,000 acres - most on Camp Pendleton, Cal Fire officials said.
For many San Diego residents, the most nerve-wracking day was Wednesday when nine fires were burning at one time.
Here is a timeline of the events beginning with the moment the first fire sparked:
Tuesday, May 13:
10:45 a.m. Bernardo Fire sparks at Nighthawk Lane and Camino San Bernardo, near Del Norte High School
1:05 p.m. Mandatory evacuation are ordered for homes of SantaLuz and Black Mountain Ranch
U.S. & World
News from around the country and around the globe
2:30 p.m. Fairbanks Ranch is evacuated
2:30 p.m. The Helen Woodward Animal Center begins process of evacuation
2:35 p.m. AlertSanDiego begins informing 22,000 contacts of the fire in 4S Ranch
3:10 p.m. Homes south of Carmel Valley Between Camino Del Sur and Black Mountain are evacuated
5:20 p.m. New evacuations are ordered for eastern Rancho Santa Fe
7:20 p.m. Residents within the city of San Diego are allowed to return
8:15 p.m. All evacuations are lifted in the Bernardo Fire
Wednesday, May 14:
9:45 a.m. Tomahawk Fire moves from Naval Weapons Station, Fallbrook to Camp Pendleton
10:30 a.m. Poinsettia Fire sparks off Poinsettia Ln & Alicante Rd in Carlsbad
12:00 p.m. Southern Carlsbad residents are ordered to evacuate
12:12 p.m. San Luis Rey Riverbed Fire sparks at North River Road and College Blvd., Oceanside
12:30 p.m. County Emergency Operations Center is activated in response to multiple fires
1 p.m. Highway Fire sparks off Old Hwy 395 and I-15 in the Deer Springs area
1:10 p.m. Fire reported at Grand and Bear Valley Parkway

As of 1:30 p.m., approximately 15,000 evacuation notifications have been sent in Carlsbad
1:31 p.m. San Marcos officials advise residents the fires in Carlsbad and Camp Pendleton aren't a threat
1:44 p.m. Camp Pendleton evacuates De Luz Child Development Center and O'Neill Heights Housing
2:14 p.m. San Diego County declares a local emergency
2:20 p.m. Evacuations are ordered for Bonsall, Old Hwy 395 and Dulin Road
2:39 p.m. Fire burning in Escondido is out.
4 p.m. Cocos Fire starts near Village Drive and Twin Oaks Road, San Marcos
4:04 p.m. San Marcos begins to evacuate North San Elijo Hills, Discovery Hills, Discovery Meadows, Coronado Hills
4:06 p.m. Cal State University San Marcos students are evacuating, some by car and others by bus
4:08 p.m. Interstate 15 is closed in both directions at Highway 76 due to San Marcos fire
4:28 p.m. City of Carlsbad reports they have issued mandatory evacuations in several neighborhoods East of Aviara Parkway
4:35 p.m. All neighborhoods south of San Marcos Blvd. are evacuated.
4:55 p.m. SD's fire air and ground resources released from Bernardo Fire to help in other fires
5:10 p.m. Fire is reported in Scripps Ranch at Scripps Ranch Boulevard and Canyon Lake Drive. Homes are evacuated.
5:29 p.m. By now, schools in at least 20 local districts have announced they will be closed Thursday.
5:43 p.m. Freeway Fire sparks at Naval Weapons Station, Fallbrook
6 p.m. Fire controlled at Palm Street exit off I-805 in National City
6:02 p.m. Wildfire sparks in Lakeside near Aurora Drive and Interstate 8 Business. Nearby residents told to evacuate.
6:28 p.m. Fire in Scripps Ranch is knocked down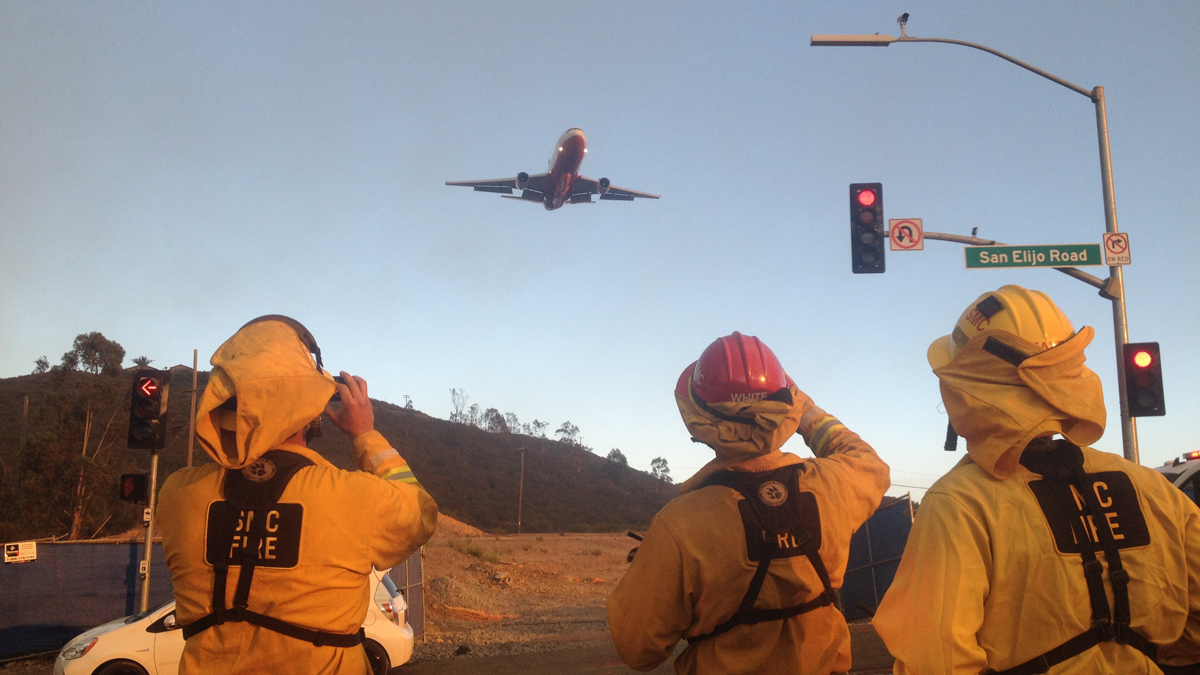 6:30 p.m. DC-10 Super Tanker arrives, drops fire retardant on NBC 7 News crew in San Marcos
6:45 p.m. Wintergardens area residents must leave due to wildfire burning near Aurora Drive & Interstate 8 in Lakeside
6:47 p.m. Escondido Fire Dept. warns residents to call 911 only if they see flames, reminds them the "smell of smoke" may be from San Marcos fire.
7:35 p.m. Residents evacuated by threat of fire in Lakeside are allowed to return home
7:45 p.m. Gov. Jerry Brown declares state of emergency for San Diego County
8:15 p.m. Residents evacuated by threat of fire in Bonsall are allowed to return home
8:33 p.m. County officials announce that nine fires burned in San Diego County in one day, burning more than 9,000 acres
8:41 p.m. Cal Fire says their biggest concern is the fire burning in San Marcos
9:05 p.m. Evacuation order for O'Neill Housing Unit in Tomahawk Fire is lifted
9:50 p.m. Six hundred new mandatory evacuation notices are ordered in Elfin Forest, Indian Ridge Rd, Crestwind Rd, Wilgen Dr & Bresa De Loma Drive areas in San Marcos Fire
10:15 p.m. Carlsbad residents in the southern portion of evacuation area are allowed to return. Those near area east of El Camino Real, south of Alga Road.
10:40 p.m. More Carlsbad residents are allowed to return
Thursday, May 15:
9 a.m. #PrayforSanDiego was trending on Twitter
11:14 a.m. City of Carlsbad establishes a tip line for information in the investigation of the Poinsettia Fire
11:55 a.m. Evacuation is lifted for west side of Via Vera Cruz/neighborhoods of Lake San Marcos
1:45 p.m. Poinsettia Fire renamed San Diego Complex
1:49 p.m. Mandatory evacuations are ordered for Escondido residents living near West Valley Pkwy between Via Rancho Pkwy & Highway 78
1:51 p.m. Palomar Medical Center West will shelter in place due to Cocos Fire
1:58 p.m. Sheriff Bill Gore asks public to come forward with any information regarding the cause of the fires
2:40 p.m. De Luz Housing evacuation is lifted in the Tomahawk Fire
3:15 p.m. Las Pulgas Fire sparks off Interstate 5 at Las Pulgas Rd, north of Oceanside
4 p.m. Rangers are closing the trails around Lake Hodges, Del Dios Gorge, and San Pasqual Valley.
4:08 p.m. Palomar Hospital reroutes trauma patients
5:16 p.m. Small vegetation fire breaks out at 45th and Mayberry
6 p.m. Carlsbad police report finding one body in ashes of Poinsettia Fire
6:43 p.m. Evacuations in Carlsbad are all lifted. "Everyone can go home," city Tweet says.
6:53 p.m. Residents in Fallbrook are allowed back in their homes

Friday, May 16:
9:20 a.m. Evacuation for Lake San Marcos is lifted
10 a.m. Open flame ban called for in all county parks
11:24 a.m. Combat Fire starts in the Talega area of Marine Corps Base Camp Pendleton
1:05 p.m. Cause of Bernardo Fire determined to be accidental – a spark from backhoe at construction site
1:34 p.m. Chair of County Board of Supervisors Dianne Jacob says county has had 11 fires with 20,000 acres burned
3:16 p.m. New evacuations are announced on Camp Pendleton - 62 area, San Onofre Housing area and School of Infantry west
4:47 p.m. Some areas of San Marcos are opened for evacuated residents to return home

Saturday, May 17:
8 a.m. Acreage burned in San Diego Complex corrected to 600 acres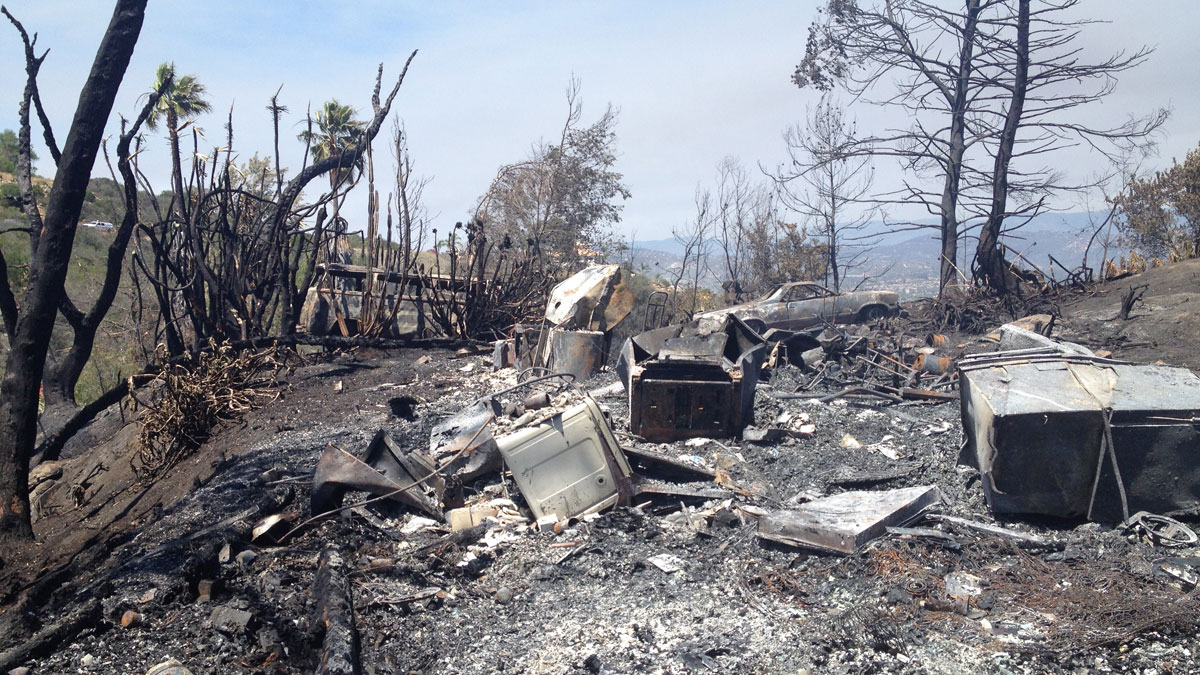 10:29 a.m. City of San Marcos asks residents to send them photos of the Cocos Fire taken in the first hour
6:21 p.m. Evacuations for San Marcos Cocos Fire area are lifted except for Coronado Hills community
Times listed are based on social media posts made by @nbcsandiego, @readysandiego, @carlsbadcagov , @escondidopolice, @escondidofdnews, @CalFireSanDiego, and @sdsheriff.