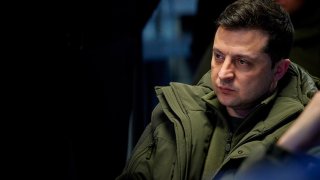 Ukrainian President Volodymyr Zelenskyy says his country's armed forces are successfully fighting back against Russian troops.
Zelenskyy said in a video released Saturday that Russian attempts to forge into Kyiv have been repelled and Moscow's plan to quickly seize the capital and install a puppet government has been thwarted. In an emotional speech, he accused the Russian forces of hitting civilian areas and infrastructure.
Zelenskyy pushed for Ukraine's urgent ascension to the European Union, saying he discussed the issue with the EU leaders. He also urged cutting Russia from the SWIFT international electronic bank payment system, noting that Germany and Hungary should show "courage" and agree to the move.
Briefly switching to Russian, Zelenskyy hailed Russia's cultural figures who denounced the invasion and urged them to redouble efforts to force the Kremlin to halt the attack. He claimed that thousands of Russian troops were killed and hundreds of those who were taken prisoner "can't understand why they were sent into Ukraine to kill and get killed." "The sooner you say to your government that this war should be immediately stopped, the more of your people will stay alive," he said.
This is a live update. Click here for complete coverage of the crisis in Ukraine.
Copyright AP - Associated Press