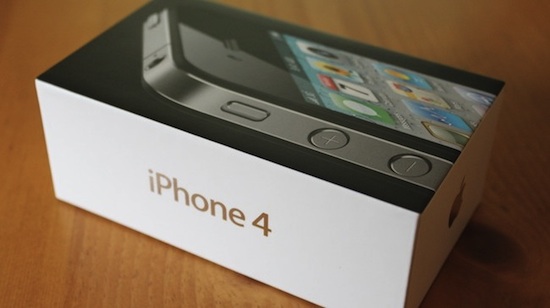 UPDATE: The unlocked iPhone 4 is for sale at apple.com for $649. You are now free to roam about the world (or at least most of it) with your favorite handheld. Steering clear of Sprint and Verizon, the new phone will work with most GSM networks.
The 16GB is $649, while the 32GB is $749.
If you don't want a multiyear service contract or if you prefer to use a local carrier when traveling abroad, the unlocked iPhone 4 is the best choice. It arrives without a micro-SIM card, so you'll need an active micro-SIM card from any supported GSM carrier worldwide.
U.S. & World
News from around the country and around the globe
--------------------------------------
Word on the street is that Apple is releasing the iPhone 4 — unlocked — for the very first time in the U.S. this Wednesday. Man, if that's true, Apple's really milking the iPhone 4 to death this year, isn't it?
With no iPhone 4S/5 announced at last week's World Wide Developer's Conference (next-gen iPhone is not expected until at least September), a CDMA-compatible Verizon iPhone 4 released in February and the white iPhone 4 released in late April, Apple's not really in a rush to offer new hardware.
Hell, if people are still snapping up the nearly year old iPhone 4 like mad men, then why not milk the little do-it-all smartphone even more? Chronic Wire claims that he's absolutely certain unlocked iPhone 4s (GSM models) in both the 16GB and 32GB (white and black) will arrive in Apple Stores this Wednesday. Previously, he claimed new MacBook Airs would set the world on fire on the very same day, but he's since retracted that "confirmation" saying his source mixed up the part numbers which actually refer to the unlocked iPhone 4s.
With iOS 5, Apple seems to have killed the need for jailbreaking with a robust collection of new features (Notifications, Wi-Fi Sync and iMessages!) and with officially unlocked iPhones, Apple will kill another main reason as well. While it may seem like nothing special at first (unlocked iPhones have existed in places like Canada, France and the U.K.), giving customers the option of being freed from a carrier subsidy or carrier lock is extremely liberating.
Sure, switching carriers within the U.S. will be next to pointless (AT&T and T-Mobile use different 3G frequency bands, so buying an unlocked iPhone and using it on T-Mobile will only give you EDGE speeds), but for the globe-trotter, it's quite worth the usual $500+ asking price — mainly because you can buy a cheap local SIM card instead of paying for ridiculous data plans while roaming abroad.
Should you be in the market for an iPhone 4 (we'd still suggest waiting a few more months for that iPhone 4S/5), you might want to wait until Wednesday because Apple Stores just might be stocking some slightly superior (in my opinion) iPhone 4s. Keep in mind that no mention of an unlocked CDMA iPhone 4 is expected (not that there are many places to bring your unlocked iPhone 4 to anyway — Sprint? Pshh).
Chronic Wire, via IntoMobile
For the latest tech stories, follow us on Twitter at @dvice
Copyright DVICE - DVICE