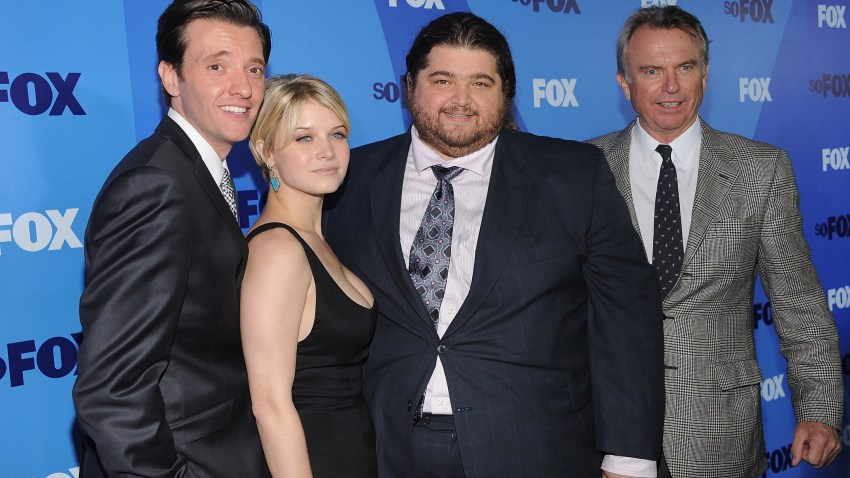 TV and movie mogul J.J. Abrams ("Lost," "Super 8") is hoping you'll be as haunted by "Alcatraz" as he was by his visits to the long-abandoned prison island.
"It feels a little bit like a ghost house, like you're in this haunted house," Abrams says of the former federal penitentiary nicknamed "The Rock," which was closed in 1963. "Like the fact that it was this notorious prison, the look of it and the feel of it…We've filmed in other prisons and things ‑‑ this place does not feel like any other prison that I've either visited or served time in."
Abrams and his creative collaborators have concocted a Fox series springing out of Alcatraz's intimidating iconography, which looms large nearly five decades after it ceased to house prisoners. In fact, the shutdown of the prison figures prominently in series, which instead of being prompted by simple budgetary issues, the end of Alcatraz was prompted by the sudden disappearance of every living person – inmates and guards alike. And now, in the present day, several of those long-lost criminals are resurfacing, some untouched by the passage of time.
U.S. & World
News from around the country and around the globe
"Alcatraz is notorious, and the criminals who were housed there were the worst of the worst and part of their crimes are somewhat reflective of their time," says executive producer Jennifer Johnson. "When we meet them present day, part of their unfinished business will be these tremendous and heinous crimes that they were pulling off in the past. And then the part that they haven't aged and that they feel that really no time has passed for them and they have the same venom and the same urgency in the same crimes that they're perpetrating as they did in the past before they disappeared, presents our team with a unique challenge and makes them think differently than other cops do because these guys are ghosts. They have no credit card records – they barely know what a credit card is. They don't have friends and family members they can go visit. They don't have a girlfriend or children around. So it's a unique crime show in that our team has to think completely outside of the box."
That team is comprised of San Francisco police detective Rebecca Madsen (Sarah Jones) whose job draws her into the Alcatraz intrigue and hooks her due to a personal connection; Dr. Deigo "Doc" Soto ("Lost" alum Jorge Garcia), an author who's studied the prison's lore for years; and the enigmatic Emerson Hauser ("Jurassic Park" star Sam Neill), who's made it his life's mission to crack the mystery of the inmate disappearance.
"Each of their characters has an incredible tie to Alcatraz," says Johnson. "Rebecca had family members who were guards there. Her Uncle Ray, who raised her as a father, was a guard there. So was her grandfather – or so she thought….[There's] an intensely personal connection between Rebecca and Alcatraz. She might be getting closer to answers to her life story."
Garcia had a personal tie to the old prison as well: his girlfriend had been intensively researching a book on Alcatraz when Abrams first approached him about the new series. "When you read about historic criminals, there's a certain romanticism that you put on them, but then when they're in front of you, these are scary, scary, scary human beings, and it's kind of a wake‑up call for him when he volunteers with enthusiasm and then finds out this is a lot harder than he thought it was going to be."
Driving the mission to recapture the emerging Alcatraz inmates is Neill's shadowy secret agent.
"Hauser does bad s**t, but he does what's necessary," explains Neill. "He is, by no means, a guy with an entirely white hat. He has a lot of scars, and I'm interested to know about the other scars that I can see on his banged‑up old body. And I'm enjoying being in his company."
Not so much that spooky prison, adds Neill: "Just the name Alcatraz puts a shiver down my spine, you know?" he laughs. "The charisma of that strange place is something that I believe has permeated the show, and when I first went out there – it was 15 years ago – it just struck me as being something surreally cruel about that isolation in full view of one of the most beautiful cities in the world. I'm very, very, you know, careful about my tax returns because I really don't want to go to prison anywhere, but imagine the cruelty of a prison where you sit behind bars looking at something as lovely as San Francisco and San Francisco is looking at you. That's such an incredibly harsh reality, and just that name tells you enough about the ethos of the show."


"Alcatraz" debuts tonight at 8 PM ET on FOX