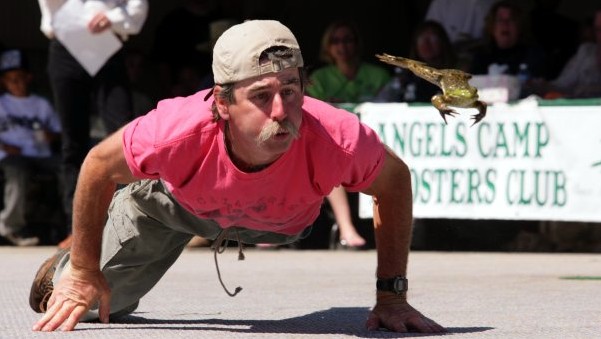 LIT, HISTORY, GLORY: The luster of literature and the sheen of history cannot be undervalued when it comes to creating a longstanding annual tradition. But that luster and sheen can be hard to come by, and if you're a modern-day event creator you can sometimes feel as if you're shoehorning your particular festival into a concept or idea where no festival belongs. A few fortunate happenings, however, have those strong ties early on and continue to grow through the decades. One of those nearly mythic events is the Jumping Frog Jubilee of Calaveras County, which is set to leap again from May 17-20, 2012.
FAMOUS AMPHIBIANS: The Jubilee has the luster of being associated with the Mark Twain short story -- that was called "The Celebrated Jumping Frog of Calaveras County," you'll recall from high school -- and it certainly possesses the sheen of time. Take a look at the photos of lovely 1940s ladies cradling beautiful, glossy amphibians. But don't let luster and sheen make you think this thing is all hoity-toity. Frogs are at its heart, and they famously don't put on airs (Michigan J. Frog, perhaps, being the one exception, thanks to his top hat and tiny tuxedo). And there's a county fair going down, too, at the same time, and it is happily homespun and laid-back.
THE GIANT LEAPS: If you plan on going, you're probably wondering just how far you'll see a frog jump. Recent champions have cleared 18 and 19 feet, which, we have to be honest, would be difficult for us, even with the aid of a springboard and fancy sneakers. We also dearly love the amphibians' names. Champs from the past include "Golden Girl" and "Fun & Froglic." Yep, and "It's Cheaper to Leap Her" is on the winners' roster, too.
U.S. & World
News from around the country and around the globe
THREE LAST THINGS... One? The town of Angels Camp takes its froggy cred seriously, and for that we say this: We love you, Angels Camp. You can barely walk through a door in The AC without seeing a frog sculpture or a frog doll or a frog. (Yes, we said "The AC" because it is that cool.)
Two? Gold Country. It's like that one restaurant we want to keep secret and save for ourselves, and yet we feel compelled to talk about it, because we think it is so hill-rolly and wine-tasty and rootin'-tootin' and frog-fantastic. You feel this way about the western Sierra foothills too, right? Good.
And three? Mark Twain would probably take issue with us trotting out the word "luster" for one of his short stories. The man didn't go in for that sort of kowtowing talk. So we do apologize. We're all nerves when it comes to talking about the author, a man every Californian should read and revere. (Oh shoot; we did it again with "revere"; forgive us, Mr. Twain?)
Copyright FREEL - NBC Local Media