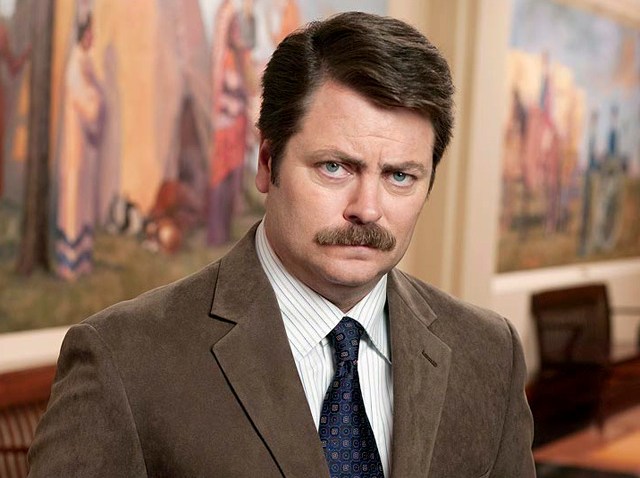 Welcome to Watch List, where we identify five things on TV to watch while you stay at home and throw a birthday party for your kid. Who likes picking up smashed cake from the floor? I do I do! LET'S GO!

PARKS AND RECREATION – 9:30PM (NBC) It's back! It's back! It's back! YAYYYYYYYYYYYY! For my money, "Parks and Recreation" was the best show on television last year, and it got bumped this fall in favor of "Outsourced," which is a lot like benching Aaron Rodgers in favor of a Roomba. Anyway, this season picks up where we left off, with the Parks department being shut down and Amy Peohler desperate to keep it afloat. Joining the cast full time are Rob Lowe and Adam Scott, who will one day be much more famous than he is right now. Given this show's ratings last year, it may be its last chance to gain solid footing with the American public. So please. Watch. Or else I will find you and I will pinch you very hard. It hurts more than you think. ANTICIPATION: HIGH!

FAIRLY LEGAL – 10:00PM (USA) Most people remember Sarah Shahi from that time she was on "The Sopranos" and got Tony high on shrooms in Vegas right after he iced Christopher. Now who couldn't get on board with a girl like that? Shahi then went on to star in NBC's "Life," which was well regarded but short-lived, and now she's back as the lead in this trite USA series about a lawyer turned mediator who takes over her dead father's firm and is forced to work for her mean stepmom. It's a fairly derivative idea, but it has a really hot girl toplining it, so it feels fresh to me! ANTICIPATION: SHAHI!

PERFECT COUPLES – 8:30PM (NBC) This sitcom actually had a "sneak preview" episode that aired last month, weeks prior to tonight's actual premiere. I think shows should do this more often. It would be just like the Spiderman musical. You just stay in previews for months and months so that critics can't be all mean and stuff. By the way, this show features Olivia Munn. She is not unattractive. I hope she's better here than she is on "The Daily Show." ANTICIPATION: MUNNY!

AMERICAN IDOL – 8:00PM (FOX) The reviews are in for the new judging panel, and the consensus reaction is… eh. "The same wine in a new bottle." "The formula simply does not work without someone willing to be an ass to kids with big dreams but no chops." "Meet the new judges. Not all that different from the old judges." And on and on it goes. I told you they needed Axl Rose on this panel. At least someone would have gotten a bottle thrown at them. ANTICIPATION: LOW!

THE REAL HOUSEWIVES OF BEVERLY HILLS – 9:00PM (Bravo – an NBC/Universal network) Camille gets news about her marriage to Kelsey, and since you already know they're divorced, I'm assuming the news is that they're getting divorced. How marvelous. ANTICIPATION: DIVORCE!