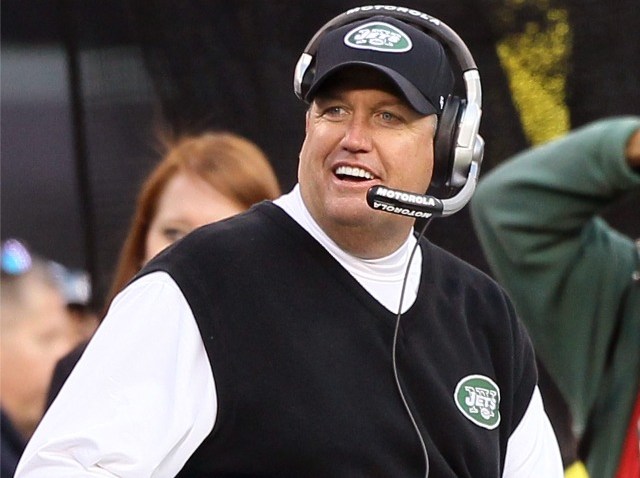 Christmas is two days away. Have you finished your shopping yet? No? Well, what are you waiting for, man?! GET ON IT! Don't you know that Christmas will be ruined and the world will collapse upon itself if you don't run to the mall right now and fight off bloodthirsty tribes of suburbanites in order to procure a Suncoast Pictures gift card for your aunt? Don't even deny it won't happen, because it will.

The holiday had me thinking about the NFL, and what certain coaches and players might have on their respective wishlists. Now, it isn't easy to shop for NFL icons. They already have so much, including that platinum hot tub (three in Ocho's house alone). So what do you get the NFL's biggest names? I have a few ideas.

Rex Ryan – Framed photo of Bridget Fonda's feet signed by Quentin Tarantino

DeSean Jackson – NFL field reduced to 99 yards in length

Randy Moss – Gift certificate to Golden Corral

Michael Vick – New puppy (NOTE: Designated for Christmas 2011 by order of a Federal Court)

Donovan McNabb – 800-word Mike Wilbon column explaining how classy you are and very subtly hinting that race may have played a factor in your exit from Washington

Brett Favre – iPhone with disabled camera

Jenn Sterger – Nude photos of Jake Plummer

Josh McDaniels – Copy of "The Last Emperor" on DVD, small cricket trapped in a box

Tom Brady – Curling iron

Peyton Manning – Six-pack of healthy undrafted white wide receivers

Peter King – Land

Norv Turner – Matt Dodge

Roger Goodell – Fur handcuffs (he asks for these every darn year)

Ben Roethlisberger – Collective restraining order from all American women under the age of 26

Pete Carroll – Pom poms

Clay Matthews – Scrunchie

Gary Kubiak – Gold watch

Marvin Lewis – Brass watch (bought used by the Brown family)

Carson Palmer – Cushy job in the insurance business

Mike Singletary – Third awful QB named Smith, XXXL crucifix medallion

Jeff Fisher – Photo of Vince Young trapped at the bottom of a well

Mike Shanahan – Debronzer

Albert Haynesworth – Wii Fit

Bob Papa – Capable booth analysts

Bob Costas – Extra year supply of face varnish

Ray Lewis – Chef's knife

Andy Reid – Four extra red flags per game

The Bills – Greyhound bus fare to Canada

Jerry Jones – Reasonable expectations

Yours in the comments. Merry Christmas, gang.