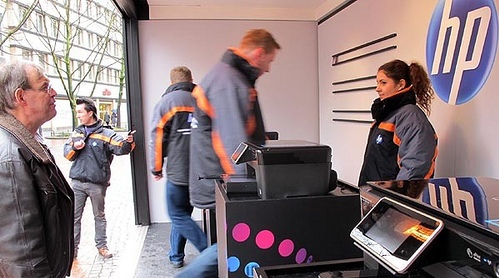 Hewlett-Packard will launch its WebOS tablet next month, but will it be a worthy adversary for the Apple iOS and Google's Android platforms?
HP, best-known for printers and servers, bought the flailing Palm last year mainly to get Palm's WebOS platform, several analysts believe. HP also wanted to become part of the exploding mobile industry now dominated by Apple, Android and Research in Motion's BlackBerry operating systems. Now HP has a big announcement on Feb. 9 in San Francisco, an event rumored ot be the unveiling of its new WebOS tablet.
In an earlier interview with Maria Bartiromo on CNBC, Todd Bradley, executive vice president of HP's personal systems group, said, "It's the first truly Web-based operating system that there is, differentiated from anything on the market today. … It's the only true multitasking operating system, where you actually can have 20 different applications open simultaneously. So as we think about how that enables everything from smartphones tablets to PCs to potentially other large-screen devices."
U.S. & World
News from around the country and around the globe
The biggest problem HP faces is getting buyers to try an unknown OS and product. The new tablet, dubbed the PalmPad by some, will be trying to carve out market share from Apple and Android who have spent the last few years marketing and tweaking their products. HP has to start at ground zero and hope for some fabulous press and steady carriers to even have a chance to succeed in the mobile industry.