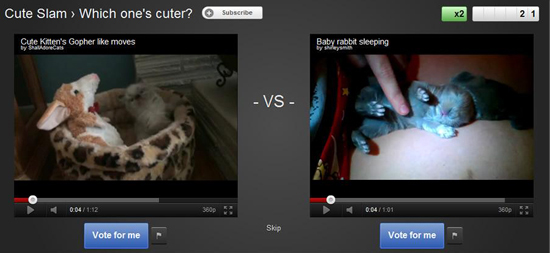 In a bid to keep us even more unproductive at work, YouTube and Google Research have announced a new feature letting us vote for our favorite videos in a head-to-head bouts called "YouTube Slam."
Bouts are grouped in five categories: Comedy, Cute, Music, Bizarre and Dance. Click on your favorite category and you'll get two videos to watch; when you've figured out which one floats your boat then you cast your vote.
Fans can subscribe to their favorite "Slam" channel to check in on top vote getters and who is climbing the leaderboard. It's a great way to lead the water cooler conversation, as you'll surely know about that Star Wars flash mob before anyone else.
U.S. & World
News from around the country and around the globe
Points junkie? Then you are in luck. Sign in, and if you can predict which videos end up winning and taking off, you'll accumulate points. You can even compare your tally against other voters to see how you stack up.
Not that we think you are competitive.
Besides being a fun feature for people to weigh in on the pop culture flavors of the moment, YouTube Slam is a canny move by Google's video site to keep users viewing more of their content as various media outlets fight for our eyeballs. Combined with the launch of their new professional channels, it is a clear sign from Google and YouTube that they intend to compete. So you could say by letting us win, they win.
The only thing that is missing is a sharing function for each vote so you can show off the best videos with your friends. Right now you can only recommend the feature.
Rest assured though, this is Google. If there is a way to make voting and videos more viral they will build it and we will come.
Via CNet, DigitalTrends
Copyright DVICE - DVICE