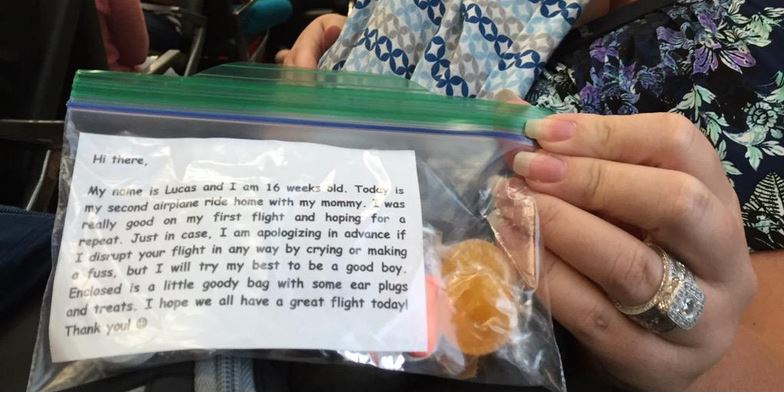 On her plane ride back to Los Angeles after covering Pope Francis' US visit, KNBC's Kim Baldonado encountered a new mother looking out for the sanity of her fellow passengers.
Nicole Higgins, of LA, was accompanied by her 16-week-old boy getting ready for his second plane ride of his young life. Before the flight, baby Lucas' mother handed out goody bags to her fellow passengers containing ear plugs and treats.
Lucas only cried twice both times for wet diapers.
This isn't the first time parents have brought care packages along with their babies. It isn't even the second time. The social stories go viral when they're posted.
"I saw it on Pinterest," said Higgins. "So I tweaked it into my own version, and added some candy."
While parents should never feel pressured to apologize for their babies acting like babies, it's undoubtedly a sweet gesture that many passengers appreciate. Several people on this flight thanked Higgins at the beginning of the flight and when they landed.
You can find the original tweet here.
Baldonado, in an email on Monday after she landed, added that the baby sat next to Bishop Robert Barron, also returning from the Pope trip. Baldonado quipped, "so maybe there was divine intervention."