Friends, family members and Los Angeles Police Department colleagues remembered Officer Nicholas Lee as a respected member of a law enforcement community and "family man" who set an example for others during his 16-year career with the agency.
LA Mayor Eric Garcetti, LAPD Chief Charlie Beck, Lee's commanding officer and Lee's younger brother shared memories and thoughts about the 40-year-old officer at the Cathedral of Our Lady of the Angels in downtown Los Angeles. Lee was killed Friday when the patrol car he was driving collided last week with a truck on a Beverly Hills street.
Officers in about 80 LAPD patrol vehicles left department headquarters for the Cathedral early Thursday. Rows of uniformed officers filled the Cathedral as Lee's flag-covered casket arrived.
"He was the best of us," said Beck, hands clasped with his hat tucked under one arm as he spoke. "Heroes never die. They live forever in the hearts of their brothers and sisters."
More than 3,500 people, including officers from around the country, attended the service.
"We look up to Nick," said Garcetti. "We see an angel soaring over this City of Angels."
Lee and his partner, a rookie officer who also attended the service, were responding to a call Friday when their vehicle collided with a dump truck near Robert Lane and Loma Vista Drive. His partner, a recent LAPD Academy graduate, was treated at a hospital and released.
Beck addressed Lee's partner during the service.
"He will never leave you," Beck said. "He will always be in your heart. Your challenge is to live up to his expectations."
The initial cause of the crash might involve a failure involving the truck's brakes, police said Friday.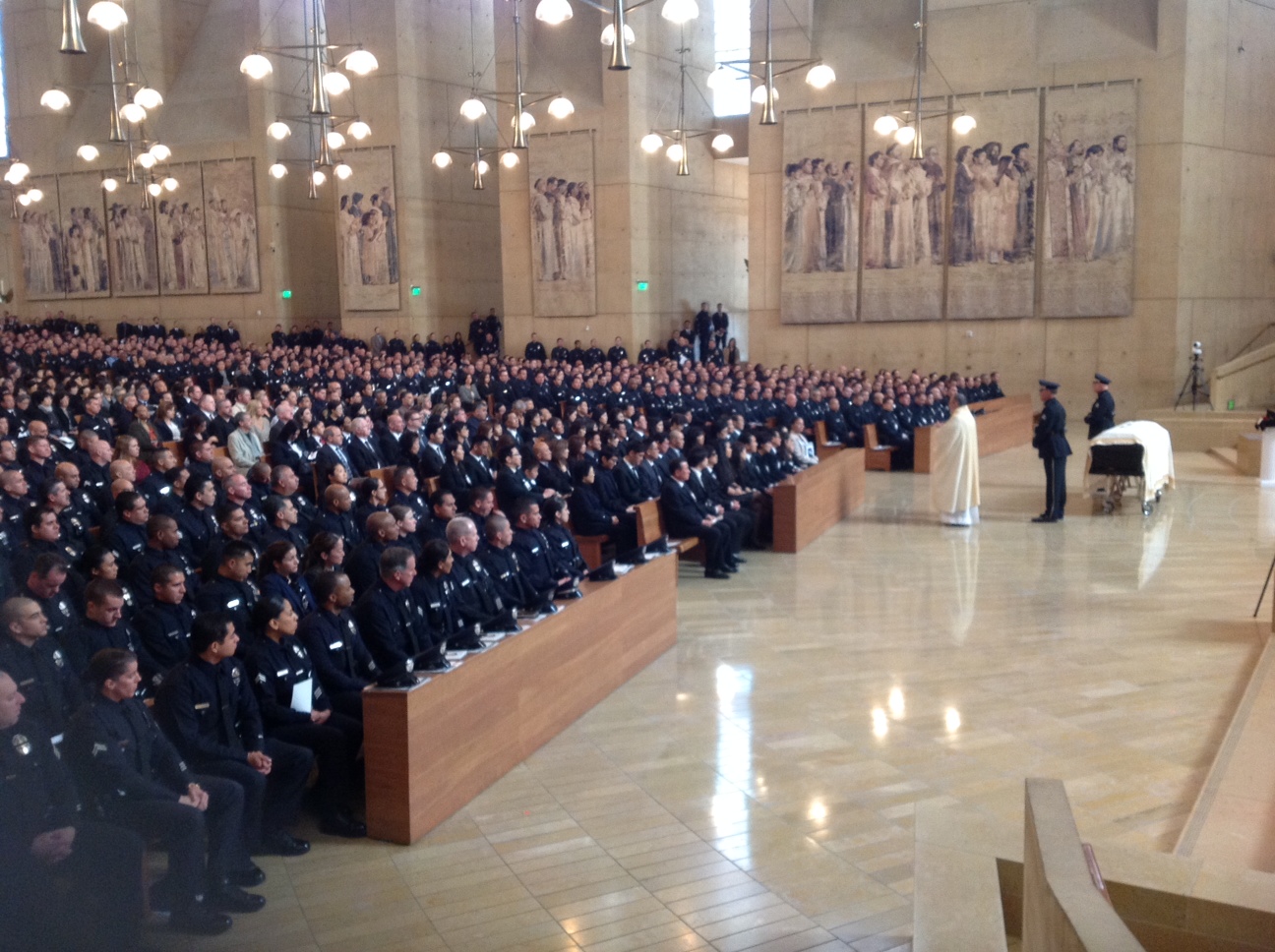 Lee, born in Seoul, moved to the United States when he was 6 years old and grew up in LA's Koreatown. He graduated from University High School in 1991 and from Cal State Fullerton in 1996.
Peter Zarcone, commanding officer of the LAPD's Hollywood Division, called Lee's accomplishments a "truly American story."

"I knew the moment I met Nick that he was something special," said Zarcone. "He just exuded confidence and professionalism.

"But more than being a great police officer, Nick was a great family man. He had his priorities straight. Hollywood loved and respected Nick. We miss him terribly."
Lee's brother told mourners about their childhood, which included several sibling spats. But Danny Lee said his brother taught him about "going through life with purpose."

"He was always there to bring me back down to earth," said Danny Lee. "Usually with a hard punch to my shoulder."
Those in attendance stood and clapped when Danny Lee finished speaking.
Lee joined the LAPD in 1991 and worked in the Van Nuys, Wilshire and Hollywood divisions. Colleagues have described him as an "exemplary" officer, who received several department commendations. He earned one of 70 commendations for pushing a driver's stalled vehicle two blocks to a fuel station.
Three years after starting his LAPD career, Lee married Catherine Kim. The couple has two daughters -- Jalen and Kendall. The funeral service program includes several messages from Lee's co-workers and one from his daughters: "We love and miss you Daddy!"
Several of the program messages mentioned a video the department created for a 7-year-old boy with leukemia. Lee, standing in front of the Hollywood sign, is one of several members of the department who appeared in the video and wished the Rhode Island boy a happy birthday.
He is the first LAPD officer killed in the line of duty since 2008.