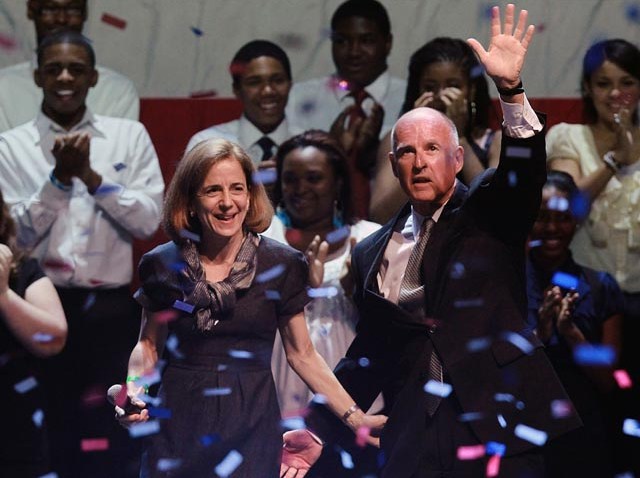 Democrat Jerry Brown defeated Republican Meg Whitman Tuesday in the race to become California's next governor.

With 91 percent of precincts reporting as of 4 a.m. Wednesday, Brown held a 13-percentage point lead.
"They haven't got all the votes in yet, but hell, it's good enough for government work," Brown said late Tuesday. "I want the people of California to know we will have times that are tough. Here's the key point, we've got to have a larger sense of agreement. I take as my challenge, forging a common purpose. A common purpose not based just on compromise, but based on what California can be."
Politics
Local, state and national politics
Whitman addressed supporters in Universal City at about 11:30 p.m.
"I just called governor-elect Brown to wish him well," Whitman said. "It's time for Californians to unite in the common cause of turning this state around."
Complete Coverage: Decision 2010
Brown joins Earl Warren as California's only governors to be elected to three four-year terms. California's term limits law does not apply to Brown because he was elected before it was adopted in 1990.

Brown's father, Edmund G. "Pat" Brown was denied a third term by Ronald Reagan in 1966.
Gov. Arnold Schwarzenegger is barred from running for re-election because of term limits. He did not endorsed a candidate.
Voters Not Thrilled With Choices
The choice between Whitman and Brown was one with which 55 percent of likely voters recently said they were not satisfied. Feelings regarding the two candidates were evident Tuesday at the polls.
"Choosing the governor was difficult," Lori Martinez, of Fresno, told the AP. "I don't think we had a good choice."
"I chose Jerry Brown, the lesser of two evils, which is pretty unfortunate," said Chris Lam, 35, of Glendale. "I think everyone in Nevada is doing the same thing with Sharon Angle and Harry Reid."
"Meg Whitman does bring a big business attitude and it could be something that we need right now," Allegra Newman, 29, an associate TV producer from Los Angeles, said. "However, I am concerned about her experience in politics."

Even Whitman acknowledged what voters have been saying in a television commercial.

"Many of you see this election as an unhappy choice between a longtime politician with no plan for the future and a billionaire with no government experience," Whitman said.

The dissatisfaction stems from a campaign where "the emphasis on both sides has been more on the negative than the positive, more on what are the faults and frailties of the opponent as opposed to what about the candidates' positions that are going to lead to positive change," said Mark Baldassare, the president and chief executive officer of the Public Policy Institute of California which conducted the poll.

"There's been a certain amount of disappointment on the part of voters that at this important moment that they are not hearing from the candidates what they need," Baldassare told City News Service.

The telephone poll of 1,067 likely voters conducted between Oct. 10-17 found that 42 percent were satisfied with the choices of gubernatorial candidates and 3 percent didn't know.
Among Democrats, 50 percent were satisfied and 46 percent not satisfied, while Republicans were not satisfied by a 58 percent-38 percent margin and independents were not satisfied by a 68 percent-30 percent margin. The poll had a margin of error of plus or minus 3.5 percentage points.

The high level of dissatisfaction among independents could mean "a lot of independents won't show up to vote," Baldassare said.

The most memorable moments of the campaign are not ones that figured to inspire voters -- the revelation that Whitman fired her longtime housekeeper after learning she was an illegal immigrant and an aide to Brown allegedly calling Whitman a whore.

Whitman spent $163 million on her campaign through Oct. 16, the most by a statewide candidate in American history, according to figures from the Secretary of State's Office.

Much of the money was donated by Whitman herself, a billionaire and former chief executive officer of the online auction site eBay who is making her first run for office.

Whitman formed an exploratory committee Feb. 9, 2009 and formally declared her candidacy Sept. 22, 2009.

Four days later, her rival for the Republican nomination, Insurance Commissioner Steve Poizner, called for her to drop out of the race after The Sacramento Bee reported that she did not vote much of her adult life.

"There has never been a person elected governor anywhere in this country with a voting record like hers," Poizner said during a news conference at the California Republican Party's Fall Convention. "Voters will not elect her as governor."

Whitman has apologized for her voting record.

Brown, the state's attorney general, was long coy about whether he would try to reclaim the office he held from 1975-83. He eventually announced his candidacy March 2 via a video posted on his campaign's website.

Brown drew 84.4 percent of the vote to top six little-known candidates to win the Democratic nomination. Whitman defeated Poizner, 64.4 percent-26.7 percent, in a bruising Republican primary.

Whitman was trying to become California's first female governor. Democrats twice nominated women for the office, Dianne Feinstein and Kathleen Brown, Jerry Brown's sister, but both lost to Pete Wilson.
Let us know what you think. Comment below, send us your thoughts via Twitter @PropZero or add your comment to our Facebook page.
Copyright CNS - City News Service