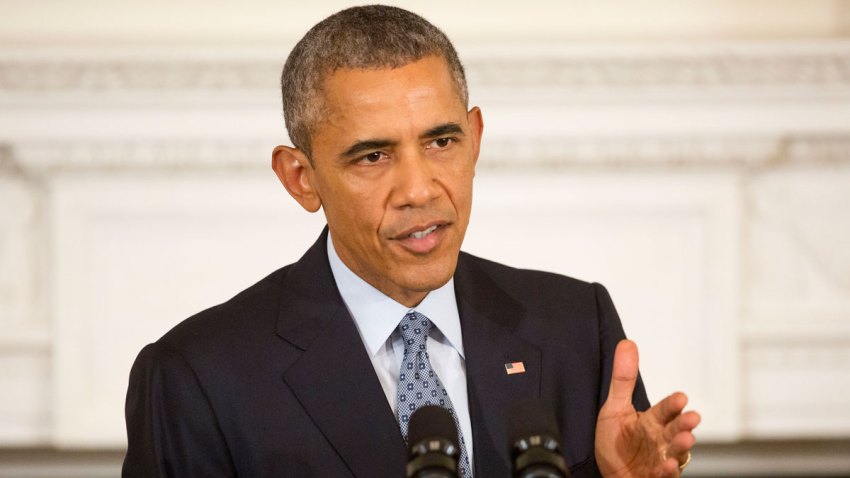 President Barack Obama arrived in Los Angeles on Saturday afternoon for a roughly 6 1/2-hour visit to attend a series of fundraisers for the Democratic Senatorial Campaign Committee and Democratic National Committee.
While in the Southland, he is expected to take part in a roundtable discussion at the home of "Star Trek" and "Star Wars: The Force Awakens" director J.J. Abrams, with tickets costing $33,400 per person, according to Variety. Proceeds will benefit the DSCC.
The president is also expected to attend a concert by a mystery performer at a private home in Pacific Palisades, according to various Hollywood trade magazines. The mystery performer will reportedly be actor-
comedian-singer Jamie Foxx, according to the website TMZ.com. Tickets for that event cost between $1,000 and $5,000, with proceeds benefiting the Democratic Hope Fund, which supports the DNC and Obama for America.
Politics
Local, state and national politics
Obama will also attend a dinner at the home of interior designer Michael Smith and his partner, former HBO executive James Costos, the U.S. ambassador to Spain. Dinner tickets range from $10,000 to $33,400 and will also benefit the Democratic Hope Fund, according to Variety and The Hollywood Reporter.
He is scheduled to depart at 7:25 p.m.
The Los Angeles Police Department issued a list of areas motorists should try to avoid to prevent being stuck in presidential motorcade traffic.

Obama's exact motorcade route is never released to the public.
According to the LAPD, from 12:30 to 2:30 p.m., motorists should avoid the areas around:
Sunset Boulevard between Rivas Canyon Road and Monaco Drive;
Capri Drive between Corsica Drive and Casale Road; and
Casale Road between Capri Drive and San Remo Drive.
From 2:30 to 3:30 p.m., motorists should avoid:
Amalfi Drive between San Remo and Capri drives;
Capri Drive between Amalfi Drive and Sunset; and
Pavia Place between Sunset Boulevard and Amalfi Drive.
From 3:30 to 5:30 p.m., motorists should avoid:
Sunset between Westcove and Minorca drives;
Allenford Avenue/26th Street between Sunset and San Vicente Boulevard;
San Vicente Boulevard between 25th Street and Wilshire Boulevard;
Wilshire between Barry and Devon avenues;
Beverly Glen Avenue between Ashton Avenue and Charing Cross Road;
Mapleton Drive between Club View and Wynton drives.
From 5:30 to 7:30 p.m., motorists should avoid:
Beverly Glen Drive between Wynton Drive and Pico Boulevard;
Pico Boulevard between Patricia Avenue and Avenue of the Stars; and
Motor Avenue between Pico and Monte Mar Drive.
Police said Sepulveda Boulevard will be closed between Lincoln and Century boulevards for a roughly eight-minute period sometime between 12:45 and 1:15 p.m.
Will Rogers State Park will be closed from 7 a.m. to 1:30 p.m., while
Cheviot Hills Recreation Center and Park will be closed until 7:30 p.m.

San Remo Drive in Pacific Palisades will be closed between Casale Road
and Amalfi Drive from about 1:30 to 3 p.m.
Amalfi Drive will be closed between 3 and 5 p.m. between Napoli and Minorca drives, and South Mapleton Drive will be closed from 5 to 7 p.m. between Wyton and Club View drives.
Club View will be closed between South Beverly Glen Boulevard and Comstock Avenue from 5 to 7 p.m. Motor Avenue will be closed from Pico to Monte Mar Drive between 6:30 and 7:30 p.m.
Following his swing through Los Angeles, Obama will fly to San Diego, where is scheduled to remain until Monday.