Investigators with the Los Angeles County Sheriff's Department served a search warrant Wednesday morning at the Santa Monica home of Los Angeles County Supervisor Sheila Kuehl, who has been a vocal critic of Sheriff Alex Villanueva and many of his policies.
A description of what was being sought was not immediately available.
LASD detectives also were seeking records or items from several other locations, including Kuehl's office in downtown LA and offices at the MTA, the county's transit agency, the officials confirmed. Reached early Wednesday, MTA director of public relations Joni Honor said she was unaware of any law enforcement activity and has not been notified that any of its offices were being searched.
Kuehl said she was sleeping early Wednesday when she heard loud banging at her door. She said she was informed by county counsel Tuesday night that there was a planned search of her house.
"I have never seen so many deputies all in one place," Kuehl said. "It's just me."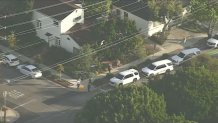 The sheriff's department issued a statement later Wednesday morning.
Local
Get Los Angeles's latest local news on crime, entertainment, weather, schools, COVID, cost of living and more. Here's your go-to source for today's LA news.
"Today, detectives from the Los Angeles County Sheriff's Department Public Corruption Unit served search warrants at multiple locations in connection with an ongoing public corruption investigation," the department said in its statement. "Those locations included the homes of Los Angeles County Supervisor Sheila Kuehl and Los Angeles County Civilian Oversight Commissioner Patricia 'Patti' Giggans. Also searched were offices located at: Los Angeles County Hall of Administration, Peace Over Violence Headquarters, and LA Metro Headquarters. The investigation has been shared with a federal agency and they continue to monitor."
Kuehl remained at the property during the search and spoke with reporters at the scene. She said the warrant presented to her contained no detailed information about the reason for the search.
"I really don't think a responsible sheriff would allow a bogus search of anybody's home, much less a supervisor, based on nothing," Kuehl said. "They gave me a warrant, which said nothing."
Kuehl offered her take on the motivation for the search, which she said may stem from the awarding of a county contract to nonprofit Peace Over Violence, which is run by Giggans. Giggans also is a member of the Los Angeles County Civilian Oversight Commission.
"What this is all about is a disgruntled employee at Metro who was let go who became obsessed with a contract that Metro took with Peace Over Violence related to sexual harassment," Kuehl said. "She claimed that I had something to do with the contract, which is completely false. It never came to the board."
Redacted copies of the affidavit and warrant were released Wednesday. The documents state the case is a probe into "an allegation of criminal conduct" by Kuehl and three "sole source contracts awarded to a nonprofit organization operating under the name Peace Over Violence" to operate a sexual harassment tip line for employees and riders on the Metro transit system.
"Between the years of 2014-2020, a series of `sole source' contracts were awarded by the MTA to the Los Angeles-based nonprofit organization Peace Over Violence totaling over $890,000,'' according to the affidavit. "A sole source contract is a non-competitive procurement that allows a single supplier to fulfill the contractual obligations and requirements from, in this case, a public entity/government contractor (MTA)."
Metro issued the following statement Tuesday morning.
"This morning the Los Angeles County Sheriff's Department (LASD) served the Los Angeles County Metropolitan Transportation Authority (Metro) with a search warrant at Metro's Gateway building. Metro is fully cooperating with LASD to comply with the search warrant. Requests for additional information regarding the search warrant should be directed to LASD."
Kuehl said her only involvement was an appearance at a news conference to announce the contract.
NBCLA reached out to the LA County District Attorney's Office. A spokesperson said the office evaluated the LASD's allegations against Kuehl last year and declined to bring charges.
"The allegation was investigated by LASD and submitted for filing consideration in September 2021. We reviewed the case and determined that the state of the evidence at that time did not prove criminal conduct beyond a reasonable doubt. LASD indicated that they would continue to investigate. We have not had additional contact on the matter and were not consulted or aware of the search warrants that were served today. In this case, because we did not review the warrant beforehand, we do not intend to defend it if challenged in court," the LA County District Attorney's Office said.
Kuehl was first elected to represent the county's Third District in November 2014. She was reelected to her second term in November 2018.
NBCLA's Jonathan Lloyd contributed to this report.