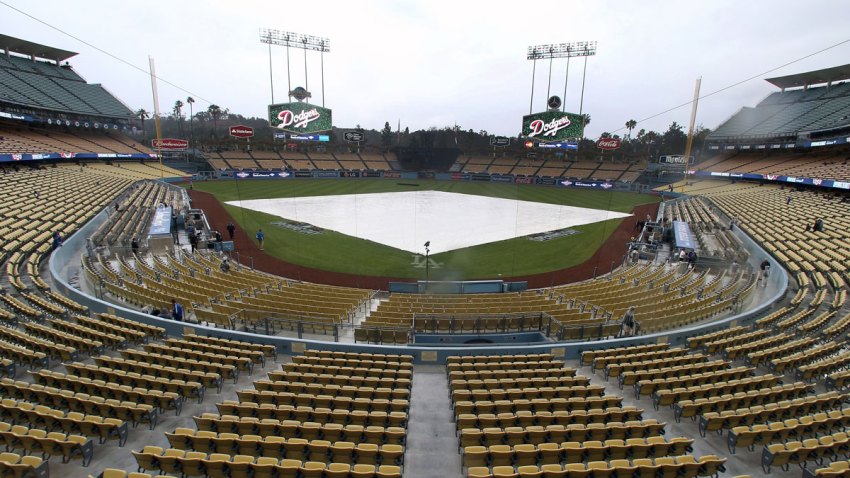 A one-day wonder of a storm dropped between just a tenth and a third of an inch of rain in Los Angeles Tuesday, but even a small amount of precipitation has been a rare event for Southern California during what is typically the wettest season of the year.
The storm moved into Southern California Tuesday evening after stalling for about 24 hours over Northern California. It was a rare sight at the end of what has been a disappointing wet season that included drought-stricken California's driest January on record.
The Los Angeles Dodgers even had a rare rain delay on the second day of the season. The rain arrived during pre-game batting practice and pushed back the start of the game.
The last time a game at Dodger Stadium was rained out was in April 2000. There have been only 17 rainouts since the stadium opened in 1962. Nine of Dodger Stadium's rainouts have been in April, including the last five.
At least one resident tried to make every drop count during California's historic drought. When rainwater pooled on Gilbert Jaffe's front sidewalk near downtown Los Angeles, the retired Boeing engineer scooped up buckets of water that he deposited into barrels in his backyard.
"I've been collecting water for a couple of years," Jaffe told The Associated Press. "I use the rainwater for my garden."
Jaffe told the AP he has been watering his tomatoes and peppers for six weeks with rain he collected during a more powerful storm in February.
In Northern California, the storm brought enough snow to the Sierra range near Lake Tahoe to produce near white-out conditions on roadways. In the Sierras, up to 6 inches of snow was expected above 7,000 feet, with 2 to 4 inches expected to accumulate as low as 3,000 feet.
More than an inch of rain fell on some counties in the San Francisco Bay Area.
But such brief and rare rain events won't have any significant impact on the state's four-year drought. California would need several seasons of heavy snow in the Sierras for relief from the dry spell.
Last week, Gov. Jerry Brown announced he had ordered cities and towns to cut the state's overall water usage by 25 percent compared with 2013 levels. The snowpack makes its way into rivers and streams and provides 30 percent of the state's water.
Copyright AP - Associated Press