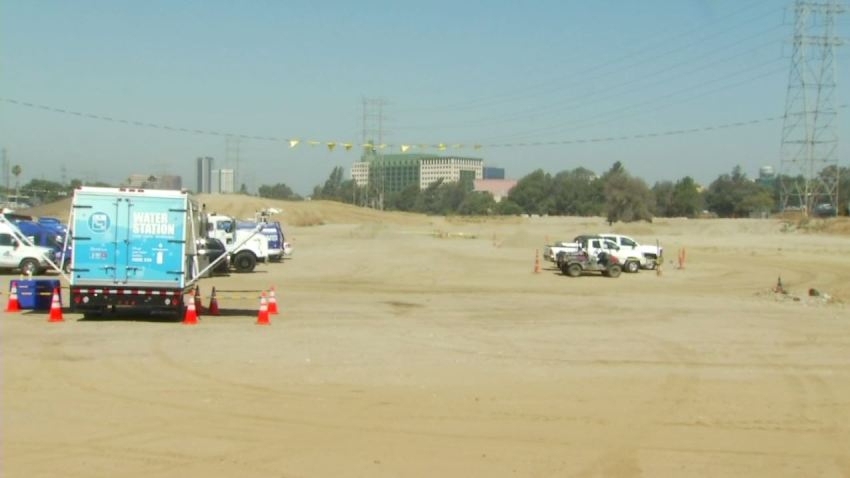 Officials celebrated a new underground reservoir on Thursday, meant to improve Los Angeles' drinking water and replace the iconic Silver Lake Reservoir that's sked to go dry in July.
Headworks Reservoir East is part of a multi-year project and one half of a new water system being built adjacent to the 134 and 5 freeways, just north of Griffith Park.
"The one most important thing is quality of water, this resolves the Silver Lake situation," said LA Councilman Tom LaBonge, joined by officials from the LA Department of Water and Power, during a news conference Thursday.
LaBonge was referring to the open-air reservoir in Silver Lake that was removed from the statewide system for storing drinking water in 2013 after it failed to meet federal standards.
Also closed was the Ivanhoe Reservoir. The Headworks Reservoir project is meant to supplement those now-closed systems and replenish LA's drinking water.
Construction of Headworks Reservoir West is underway and would be followed with a recreational land area built on top of it as part of the LA River Revitalization Project in association with the US Army Corps of Engineers. LaBonge discussed the miles of possible equestrian and hiking trails that could compliment the planned recreational area of the underground reservoirs.
"Thousands of people walk around Silver Lake and we know thousands will walk around
Officials planned to drain the iconic Silver Lake Reservoir in July for about a year to replace an aging pipeline and replace the water after repairs were finished.
Officials estimated the new reservoirs would save ratepayers in the city of Los Angeles $99 million during the life of the EPA state revolving loan taken out to build the project. Initial estimates projected the reservoirs would cost about $230 million to build. LaBonge said on Thursday the easterly side of the project cost about $127 million.