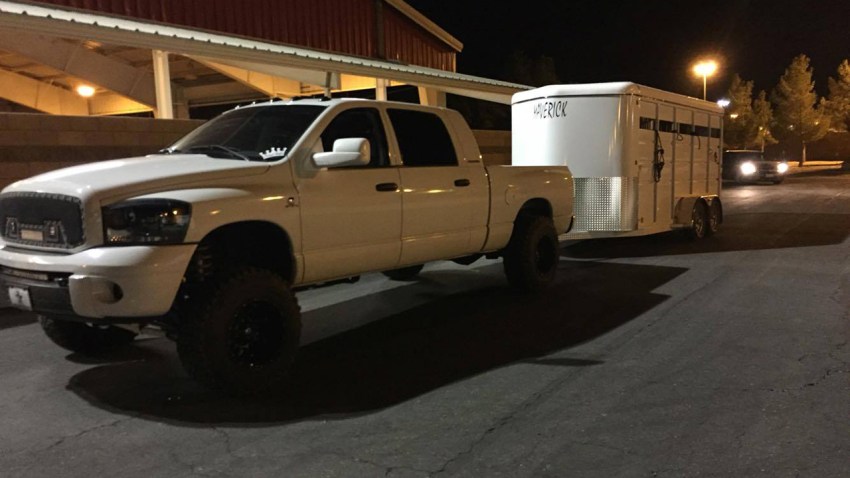 The out-of-control Sand Fire is forcing thousands of Santa Clarita Valley residents and their animals to evacuate their homes. Ray Claridge, the owner of Golden West Trailer Sales in Acton, is lending a hand, by lending out his horse trailers.
"I told our people, if somebody local comes in and they need a trailer, just get their driver's license and help them out," Claridge said.
So far, Claridge has loaned out three horse trailers to people trying to rescue animals threatened by the Sand Fire, which has burned more than 33,000 acres and forced the evacuation of about 20,000 people since Friday.
Benton Walker, a Palmdale resident helping with evacuations, borrowed one of those trailers Sunday afternoon.
"I noticed a lot of people needed animals moved," Walker said. "All I had was a flatbed trailer, so I gave [Golden West Trailers] a call and asked if there was anything I could borrow."
Walker said Claridge just asked for his drivers' license, and told him to hook up to a trailer.
"I hooked up and he said, 'Now go save some horses,'" Walker said.
One day later, Walker has helped rescue eight horses and two pigs - just a few of the hundreds of animals displaced by the fire. He's hoping to rescue a group of 50 alpacas Monday afternoon.
"I just figured it was a good thing to do, today, yesterday and probably tomorrow," Walker said.
Claridge, who was evacuated from his Sand Canyon home on Saturday, said he's happy his trailers are helping.
"You just want to help your neighbors," Claridge said. "We've got lots of trailers, so if you need one, come on down."