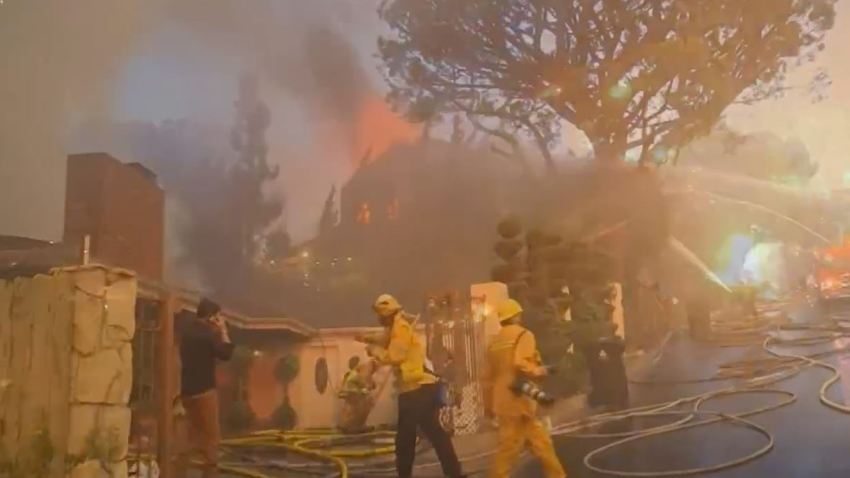 What to Know
Containment reached 50 percent in the Skirball Fire.
Most evacuees were allowed home. Mayor Garcetti announced evacuation orders would be lifted Friday for residents.
475 acres burned; four homes destroyed, 12 homes damaged.
This article is no longer being updated. For the latest information on the Skirball Fire, click here.
Containment of the Skirball Fire in the Sepulveda Pass and Bel-Air increased Friday to 50 percent, and some evacuees were back home after evacuation orders were partially lifted.
The fire, which was reported at 4:52 a.m. Wednesday on the east side of the San Diego (405) Freeway near Mulholland Drive, has scorched about 475 acres, destroyed six homes and damaged 12 others while prompting the evacuation of about 700 homes and an apartment building.
Despite Thursday's strong Santa Ana winds, weaker gusts allowed firefighters to make progress containing the blaze.
One firefighter suffered neck burns and was treated at a hospital, authorities said.
Red flag parking restrictions meant to keep Los Angeles streets open for firefighting equipment expired at 8 a.m. Friday, according to the Los Angeles Fire Department.
The fire has been kept on the east side of the freeway.
Mandatory evacuation orders remained in place Friday for residents north of the 1000 block of Linda Flora Drive, south of 1894 Linda Flora Drive, and a stretch of Moraga Drive north of the security gate entrance.
Casino Road, south of Stephen S. Wise Temple, is open to residents only. Stretches of Bellagio and Casiano roads from Moraga Drive were also opened Friday.
Evacuation orders covered a large area bounded by Mulholland Drive to the north, Sunset Boulevard to the south, the San Diego Freeway to the west and Roscomare Road on the east.
The exception to the evacuation order was the Bel-Air Crest housing development, which was not threatened, according to Los Angeles Mayor Eric Garcetti.
The Getty Center and the nearby Skirball Center, both on the west side of the freeway, did not appear to be threatened, and reopened Friday.
The fire was burning in the same general area as the devastating Bel-Air Fire of 1961. That blaze destroyed about 500 homes and led to various policy changes, including a prohibition on wood-shingle roofs and the strict requirement to clear brush around properties.
What sparked the Skirball Fire was not immediately determined.