It's beginning to look a lot like Christmas.
The season of giving has arrived, and what better way to make the Dodgers fan in your life happy this holiday season, then giving them the gift of gear and other gadgets from their favorite team?
From jerseys to home décor, ugly Christmas sweaters and more, these last-minute gift ideas are sure to put a smile on any Dodgers fan's face.
So if you still need to find a gift for a loved one, family member, or friend, and you know they're a big fan of the Boys in Blue, here's some gift ideas from me to you:
Los Angeles Dodgers Light Up Bluetooth Sweater
My favorite Dodger-themed item this holiday season is a Light Up Bluetooth Ugly Christmas sweater from our friends over at Forever Collectibles (FOCO).
Sports
Get today's sports news out of Los Angeles. Here's the latest on the Dodgers, Lakers, Angels, Kings, Galaxy, LAFC, USC, UCLA and more LA teams.
The sweater not only has blinking LED lights, but it comes with a built-in bluetooth speaker that connects to your phone, allowing you to play music and keep the party rocking all night long.
I personally wore this sweater to multiple holiday parties this year, and it stole the show.
In addition to apparel, FOCO helps fans become the MVPs of their family and friends, with the best and most exclusive line of Dodger-branded merchandise.
From bobbleheads, to footwear, toys, bags, backpacks, and more, FOCO will help you find the perfect for present for any Dodger fan. FOCO even has gifts under $25 that are perfect for stocking stuffers and your White Elephant parties.
You can check out all their Dodger-branded merchandise on their website here:
Los Angeles Dodgers 2018 World Series Tapestry Throw
Celebrate the Dodgers back-to-back World Series appearances with a 2018 woven World Series tapestry throw to help keep you warm in the winter.
Courtesy of our friends over at The Northwest Company, you can quickly and easily purchase Dodger-branded home textiles for your favorite friend or family member.
The Northwest has blankets, bath mats, backpacks, pillows, bath sets, robes, ponchos, steering wheel and seat covers, in addition to so many other items to help decorate your home or automobile in Dodger themed swag.
You can see what else the Northwest has to offer in Dodger merchandise at their website here:
The Northwest Dodgers merchandise
Los Angeles Dodgers headband with Coolcore Fabric
The headband is back en vogue for both men and women, and what better gift for the headband wearing friend or family in your life, than a Dodger themed headband.
These stretch headbands from Bani Bands are made with patented Coolcore cooling fabric, so when you sweat, it cools you down! The headbands come in a variety of shapes and sizes for both men and women and in different MLB and sports teams as well.
If you hurry over to their website, you can purchase a combo pack of a Dodgers glitter band, and a Dodger blue DS band on sale for $24.99.
These items and more are all available on their website here:
Los Angeles Dodgers headbands from Bani Band
2018 World Series Game 3 Panoramic Poster:
Who can forget the record breaking Game 3 of the 2018 World Series as the Los Angeles Dodgers played an 18-inning, 7-hour and 20-minute, war of attrition for the ages.
Max Muncy eventually won the game with a walk-off home run, and for any fan in attendance or watching at home, that was able to witness one of the most historic moments in baseball history, this gift is for you.
Thanks to esteemed photographer Chris Fabregas, you can immortalize that moment with a one-of-a kind panoramic poster of Dodger Stadium during Game 3 of the 2018 World Series.
The print is perfect in any room, is 12" by 36" in size, and comes on high quality lustre paper. There are two versions available: the poster, complete with boxscore, or the Fine Art Print version as well. Both prints are available for sale on Chris Fabregas website here:
Chris Fabregas Website for Dodger Stadim Prints
Tickets:
What does the Dodger fan want most for Christmas? Why tickets of course! If you're running late on time, purchasing mini plans for the 2019 season could be the best gift idea of the holiday season. The Dodgers are currently offering holiday specials on mini plans for as low as $15 per ticket. Not only is this a great idea, but it's the gift that keeps on giving, as you and the recipient will have something to look forward to next year. Who knows, they might even take you with them to the game.
Dodgers 2019 Season tickets and mini plans are available here:
Los Angeles Dodgers 2019 Season Tickes and Mini Plans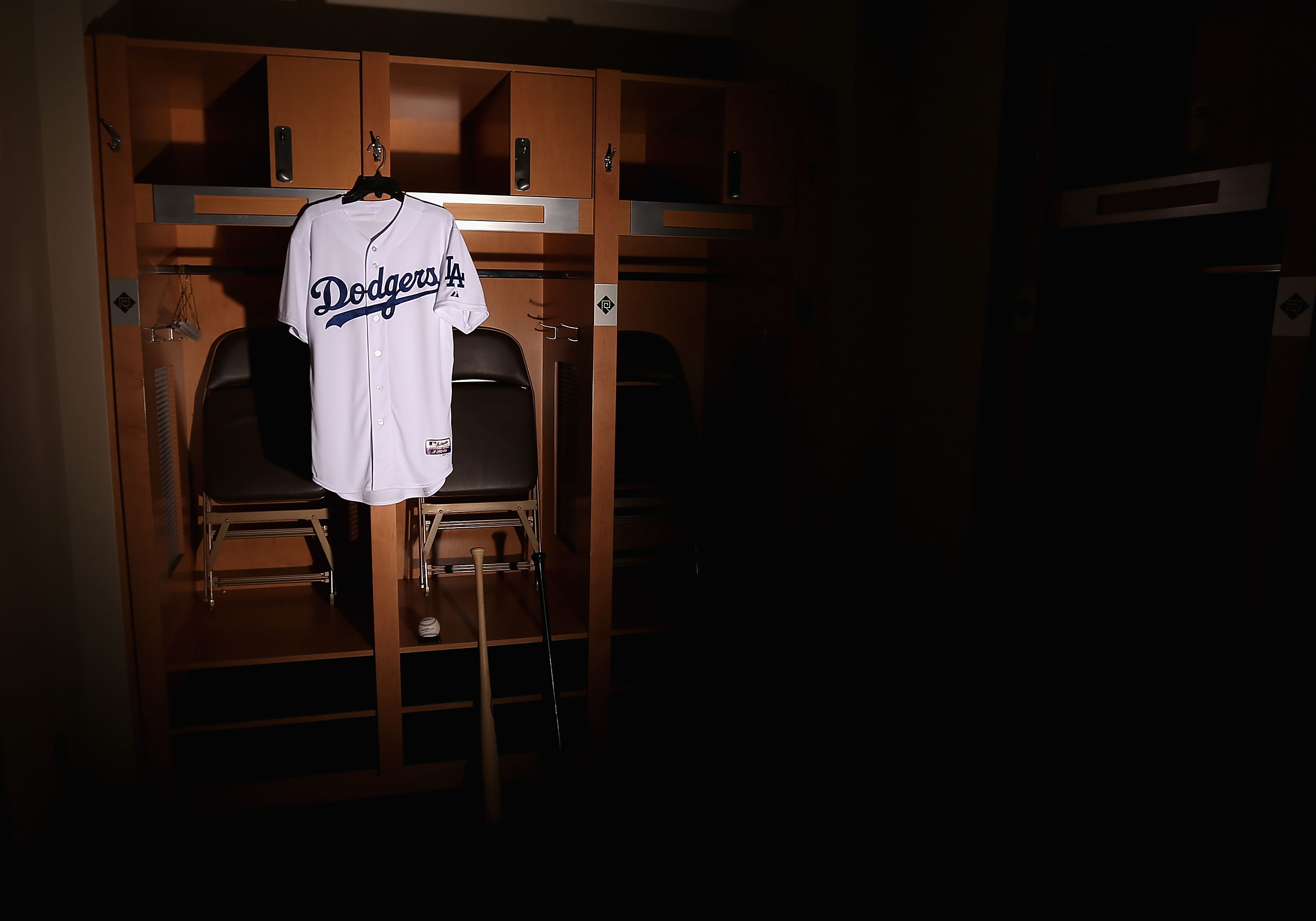 Jerseys:
After advancing to back-to-back World Series for the first time since 1977 and 78, the Dodgers are revamped and ready to win their first championship since 1988 in 2019. With a brilliantly blended mix of veteran players and young stars, what better way to say Merry Christmas than donning a Dodger jersey. Whether its fan favorite Matt Kemp, perennial Cy-Young winner Clayton Kershaw, or newcomer Joe Kelly, a jersey featuring your favorite player is a must-have for any Dodger fan.
Los Angeles Dodgers jerseys can be ordered here:
Stadium Tours:
Dodger Stadium is one of the most historic stadiums in all of Major League Baseball. Located atop Chavez Ravine, the stadium overlooks downtown Los Angeles, Glendale, and Hollywood. What better gift for the Dodger fan in the family then a tour around the third oldest stadium in the league. Also, for a limited time, Dodger Stadium is playing host to a pop-up museum that showcases 60 years of Dodger baseball in Los Angeles.
Gift Cards:
Can't figure out what to buy the Dodger fan in your family? Well, let them choose for themselves with a Dodgers gift card for anything they want from MLBshop.com. Gift certificates are available online, or physical gift cards can be mailed to you before Christmas.
Stocking Stuffers:
If you're looking for small gift ideas for Dodger fans, the Top of the Park store and MLBshop.com has the perfect stocking stuffer items for you. Everything from wallets, license plates, earrings, wine glasses, key chains, watches, fidget spinners, neckties and more, is available on the store for $20 or less.