President Barack Obama will speak at UC Irvine's commencement ceremony after the school extended invitations to the White House in the form of postcards and a video that featured students, faculty members and the Anteater basketball team's 7-foot-6 center.
The White House confirmed Thursday that President Obama will speak at the June 14 ceremony at Angel Stadium in Anaheim. His visit comes 50 years after President Lyndon B. Johnson dedicated the land on which the Orange County campus would be built.
"We are thrilled that the President has accepted our invitation to deliver the keynote address at our commencement," said Chancellor Michael V. Drake. "We will be commemorating the 50th anniversary of the groundbreaking and dedication ceremonies of our campus. We are proud of the progress we have made during our first half century, and are looking forward to even greater achievements in the years to come."
Drake offered the first invite to the White House in April 2013 with a letter. The campaign continued with students and staff members collecting signatures on about 10,000 postcards that were sent to the White House with the student-produced video.
The video begins with a picture of President Johnson speaking at the site of what would be the UC Irvine campus in June 1964. The two-minute video ends with UC Irvine basketball center Mamadou Ndiaye -- listed at 7-foot-6, 290 pounds -- towering over a cardboard cutout of President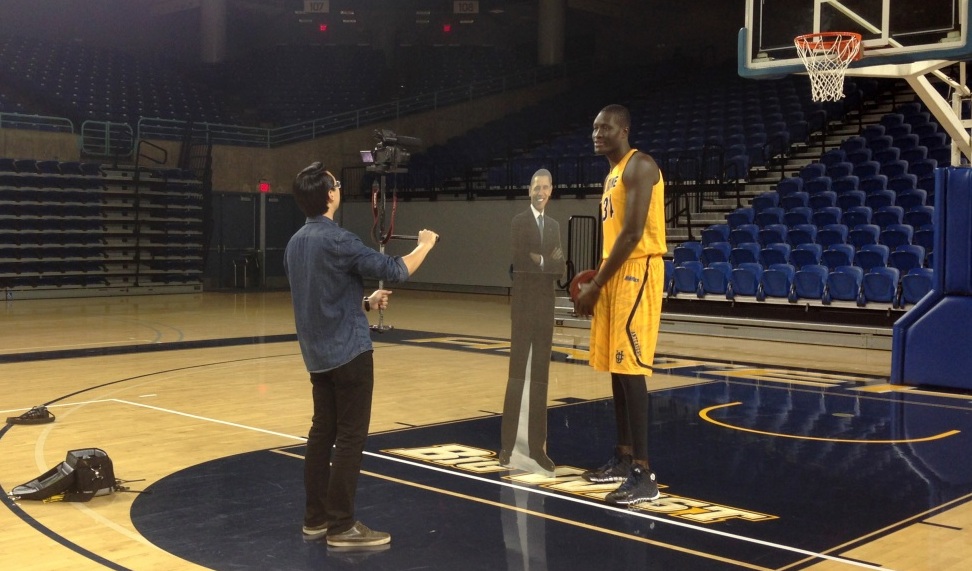 Obama -- listed at 6-foot-1 -- on the Anteaters' home court.
"We should play ball, together," Ndiaye suggests.
Born in Senegal, Ndiaye -- he wears a size 19 1/2 shoe -- is a freshman who graduated from Brethren Christian High School in Huntington Beach, where he averaged 27 points and 14 rebounds as a senior.