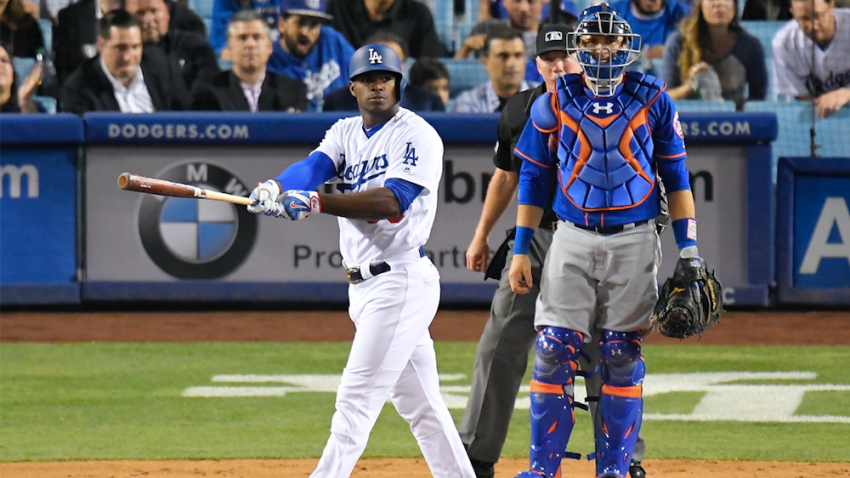 Puig your friend, but not New York's.
Los Angeles Dodgers' outfielder Yasiel Puig is officially on the bad side of Mets' first baseman Wilmer Flores and other New York teammates after the Cuban slugger stared at his three-run home run and then slowly trotted around the bases in the team's 8-2 win on Wednesday night.
The always colorful Puig, known affectionately as the "Wild Horse," for his untamed nature on the baseball diamond, put on a bit of a performance at home plate after he posed for several seconds to watch his home run exit the ballpark before jogging around the bases.
Entertainment 1 - Washed Baseball Lames 0. Shouts to Puig. #Dodgers #Mets pic.twitter.com/5XBphARpgq— Daniel Dudley (@DDisBORED) June 22, 2017
As you can see in the video, as Puig rounded first base, Flores said something which nearly stopped Puig in his tracks before he cursed back at Flores and continued his trot around the bases, a journey that took just over 32 seconds.
"I don't think he knows what having respect for the game is," said Flores at his locker well after the game had ended. "I think there's a way to enjoy a home run, but that was too much."
What did Puig say?
"[Bleep] you!" repeated Flores.
Similar to Bryce Harper, Jose Bautista, and Mets' outfielder Yoenis Cespedes, Puig plays the game with a certain panache that rubs baseball purists the wrong way.
Ordinarily, Puig is 100 percent to blame for the vitriol and anger that comes with the way he plays the game. However, on Wednesday, the gauntlet was dropped when Mets' starter Tyler Pill intentionally walked Joc Pederson with one out to get to Puig.
"They intentionally walked him to get to me and that was part of the emotion," said Puig through a translator postgame. "They figured I would hit another groundball like I did in the first inning so I was able to connect and that's why I took so long."
As anyone who's played baseball knows, there's an element of pride at stake when a pitcher intentionally walks the batter in front of you to get you in the batter's box.
On a personal level, I once had a pitcher intentionally walk my cousin—a notorious home run hitter—to get to me because they thought I would be an easier out. As my teammates tried to rile me up from the dugout by pointing out the slight, it made me angry and more focused at the plate.
As fate would have it, I too hit a home run, and stared down the pitcher as I slowly trotted around the bases. To be blunt, there was no greater payback than that.
"They figured I would be an easier out," explained Puig of his own situation on Wednesday night. "They elected to pitch to me instead of Joc, and they thought it would be the same result as my first at-bat. So yes, they challenged my pride."
Yadira Puig discusses his 3-run HR and the aftermath that followed as the #Meta got angry #Dodgers pic.twitter.com/XThObDyB1J— Michael J. Duarte (@michaeljduarte) June 22, 2017
Ironically, after the inning ended, it was fellow countryman, Cespedes that waited for Puig on the field to give him some "advice."
Puig told reporters that Cespedes told him he needed to run faster around the bases, a sentiment that he disagreed with.
Cespedes declined to discuss his conversation with Puig, calling it a "personal conversation," but other Mets' players including Flores believe it could have a carry over affect into Thursday's finale as the Dodgers go for the four-game sweep.
"He disrespected us," Flores said simply. "I don't take that."
Puig responded to Flores comments after the game, chalking up the Mets' ire to their play as of late.
"We've been hitting well and hitting a lot of home runs," said Puig. "If that's the way he feels, it might be the result of them not playing so well."
Puig is no stranger to pissing off opposing teams with his antics as he was just recently suspended one game by Major League Baseball after he flipped off fans in Cleveland with both hands during a game last week against the Indians.
Similar to Wednesday, Puig also hit a home run during that incident, but is appealing the suspension.