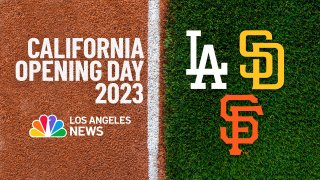 What to Know
Watch NBCLA's live coverage of MLB's opening day on Thursday, starting at 12:30 p.m.
The Dodgers open the season at home against the Diamondbacks.
The start of the 2023 season brings new rules designed to speed up the pace of play.
Major League Baseball's opening day is almost here.
And, with it comes the excitement and optimism of a new season, one filled with new faces on new teams, new rules and old rivalries.
Join us at 12:30 p.m. Thursday for opening day coverage and a look ahead to the season.
NBCUniversal Local's Telemundo and NBC free ad-supported streaming TV (FAST) local news channels Noticias Telemundo California, NBC Los Angeles News and NBC San Diego News will present a bilingual Major League Baseball Opening Day special for streaming audiences, California Opening Day 2023, on Thursday, March 30, at 12:30 p.m. PT.
WHAT: California Opening Day 2023, a one-hour show and joint production by KNBC/KVEA and KNSD/KUAN, with contributions from KNTV/KSTS and NBC Sports Bay Area, will feature detailed season previews, in English and Spanish, covering the L.A. Dodgers, San Diego Padres and San Francisco Giants, including news, analysis, reporting and interviews.
WHO: The show will be hosted by KNBC Sports Anchor Mario Solis, and feature several local Telemundo and NBC anchors and reporters who cover the teams, including KVEA Sports Anchor Saúl Rodríguez, KNBC News Anchor and Reporter Jonathan Gonzalez, KNSD Sports Anchor Derek Togerson and KUAN News Anchor Rigo Villalobos.
Here's how to watch.
Connected TV
Stream it live on your big screen on the NBC Los Angeles News channel for free.
Peacock — If you don't have an account just yet, you can tune in with a free subscription. Find the channels section in the navigation, then scroll down until you find our channel.
Roku — Head over to the Live TV section and click your way to channel 126.
Samsung TV Plus — Find us on channel 1035.
Xumo — Open the Xumo Play app and scroll down to the NBC Los Angeles News channel.
You can also stream it on the NBCLA or Telemundo 52 apps on your Roku and Fire TV devices. You'll find the show in the local section while it's happening live.
Dodgers Opening Day
The Dodgers open 2023 at home against the Arizona Diamondbacks. First pitch is scheduled for 7:10 p.m.
The 111-win Dodgers were stunned in the 2022 NL Division Series by the Padres, who are among the challengers in a division that has been dominated by LA. The Dodgers have won nine of the last 10 NL West titles.
"It is a good division. It has been for a number of years," said Dodgers left-hander Clayton Kershaw. "The Diamondbacks have gotten better. Their rotation's good. They've got some guys who can really hit. The Giants as well, but obviously the Padres. They beat us last year in the playoffs. They have a good team. We like our chances, though."
The Dodgers said farewell to All-Star Trea Turner, Cody Bellinger and Justin Turner during the offseason. They also have some key injuries going into opening day.
Shortstop Gavin Lux is out for the year after tearing an ACL. All-Star pitcher Tony Gonsolin is on the 15-day injured list with a sprained left ankle. Pitcher Blake Treinen is on the 60-day injured list after right shoulder surgery. Pitcher Daniel Hudson is making progress after an ACL tear. All-Star pitcher Walker Buehler underwent Tommy John surgery and could possibly return late in the season.
LA will turn to left-handed pitcher Julio Urías to start on Thursday. The honor has gone to three-time NL Cy Young Award winner Kershaw nine times since 2011.
NL West rival San Francisco opens the season at 10:30 a.m. PT against the Yankees in New York. The Padres host the Rockies at 1:10 p.m. The Angels are in Oakland to take on the A's at 7:07 p.m.