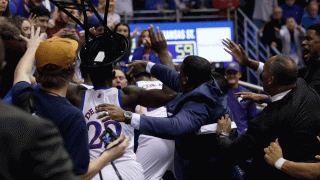 A basketball game between the University of Kansas and Kansas State University ended in a bench-clearing brawl Tuesday night, NBC News reported.
The fight between the in-state rivals appeared to erupt after a Kansas player blocked a shot by a Kansas State player, sending the player to the floor, at the end of Kansas' 81-60 win at home in Lawrence, according to ESPN video of the incident.
Punches were thrown, and officials tried to separate players on the court at Allen Fieldhouse.
Kansas forward Silvio De Sousa threw a punch and picked up a stool during the chaos, NBC Sports reported, but it was difficult to ascertain other actions because of the number of people crowding the court.
Read the full story on NBCNews.com