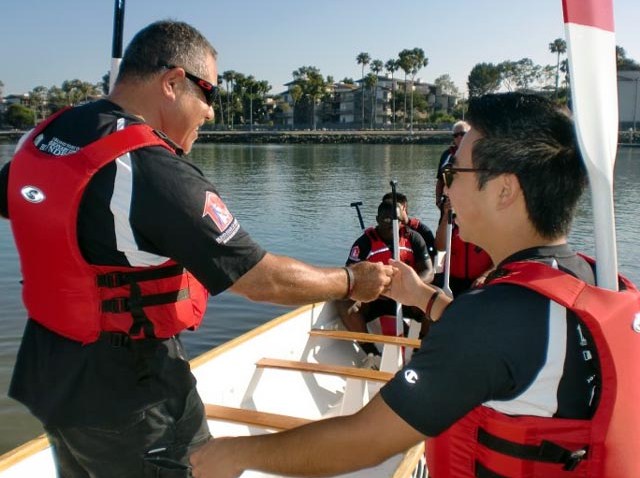 Strong. Competitive. Determined. The Long Beach Dragon Boat Festival attracts some of the world's most elite race teams for this ancient Chinese sport.
It also welcomes teams facing extreme odds. This year was no different, as a boat filled with blind paddlers took to the water.
"We are pretty capable of doing a multitude of things," said Dominick Martin, a 26-year-old competitor who was born legally blind.

He said coordination and teamwork are the keys.

"If someone doesn't lean forward or someone doesn't lean back when they're suppose to, it can kind of throw your or other people off," Martin said. "It's not about the team with the most muscular people on it. It's about who can work together the best."
Newly formed "Blind Start" represents a non-profit group of the same name. President and founder Brian Tom became blind due to severe glaucoma.
He thought a racing team of blind and visually impaired paddlers would prove that you don't need sight to have a vision -- a vision to win, a vision to become strong, contributing adults.
"They've shown hope for everybody that you can do things," said Coach T.K. Kimura. "Step out of your comfort zone."
The team members' paddles are painted to represent the white and red colors of their walking canes.
"We wanted to represent the white cane with our white cane paddles, so we had these specially made to represent strength and independence of Team Blind Start," said Tom.
Sighted paddlers also were on the boat. They agreed to wear blindfolds so they could experience what their blind teammates endure during a race.
"You enter the world of the blind and you see the world as they would," said Dr. Jeanelle Padre, a sighted paddler and Blind Start board member. "You hear the rhythm of the drums and feel the water on your hands."
The team competed in the VIP/Celebrity 200m Race in Long Beach and placed fourth, earning a trophy. In the Mixed Division 500m Race, the team finished third in a three-way photo finish.
There also was a blind a cappella trio on board. "Pure Sounds of Out A Sight" provides the music and spirit to power "Blind Start" to victory.