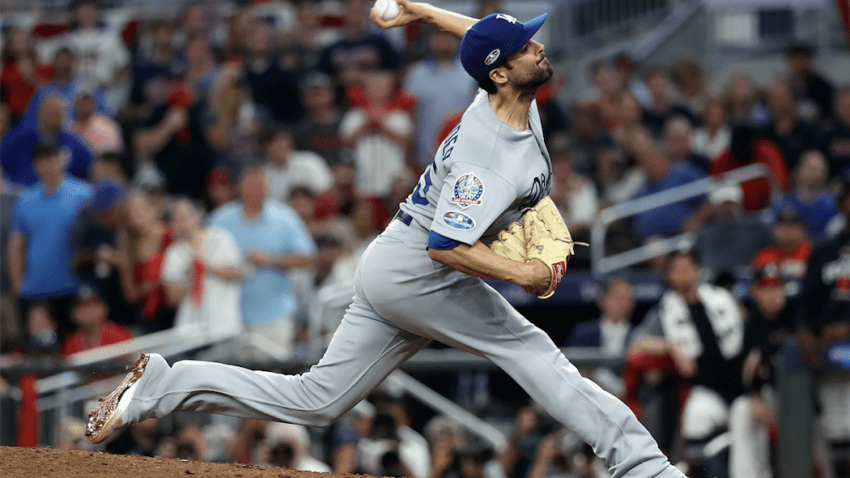 If it ain't broke don't fix it.
That mantra has been tried and tested, but the Los Angeles Dodgers decided to veer off course a little bit when announcing their 25-man National League Championship roster on Friday morning.
The Dodgers used 12 pitchers and 13 position players in a four-game series victory over the Atlanta Braves in the NLDS. Many believed that the roster was perfectly constructed as it was, and it would simply roll over unchanged into the NLCS matchup with the Milwaukee Brewers.
On Wednesday, the Dodgers hosted a workout at Dodger Stadium ahead of their Thursday flight to Milwaukee. During a pregame press conference, Dodgers manager Dave Roberts was asked what changes, if any, would be made to the NLCS roster.
Roberts said that there could still be "a couple changes," with many experts looking at LA's all-star right-handed pitcher Ross Stripling as a potential add-on candidate against the vaunted right-handers in the Brewers lineup.
After being sent to Camelback Ranch in Glendale, Arizona for the NLDS, outfielder Andrew Toles was part of the workout at Dodger Stadium, and flew to Milwaukee on Thursday. Many believed that it was possible Toles would be added to the roster as a left-handed bat off the bench, or as a potential replacement for Joc Pederson should he go on paternity leave during the series.
However, not a lot of people saw the one and only change the Dodgers made to the roster coming. In a surprise move, the team added 22-year-old left-hander Julio Urias to the NLCS roster, removing veteran left-handed relief pitcher Scott Alexander.
The move came as a surprise considering Urias missed over a year after undergoing shoulder surgery, and only appeared in three games this season.
The hard-throwing left-hander did not allow a run in those three games, and its possible the front office sees Milwaukee's unfamiliarity with Urias as an advantage for the Dodgers over Alexander.
"The value of Julio to come in and get one, two, four, or five outs, I think that for us with out bullpen construction, we feel comfortable with that," said Dodgers manager Dave Roberts.
Alexander pitched well during the season, going 3-2 with a 3.68 ERA and had three saves in 2018. He made one appearance in the NLDS, and pitched a scoreless ninth inning in Game 3.
Meanwhile, Milwaukee also made only one addition to their NLCS roster, adding relief pitcher Xavier Cedeno and removing outfielder Keon Broxton.