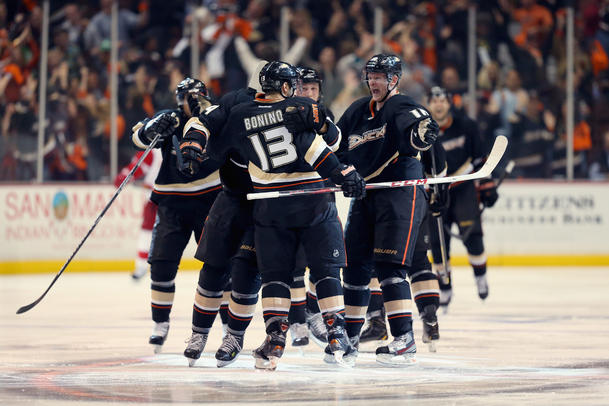 Most of the time, the number two seed in a playoff series, even in the NHL where divisional winners sometimes have fewer points than wild card teams, has to be considered a strong favorite to win. In the case of the Anaheim Ducks, that logic has not held true, and as a result they are facing a do-or-die Game 7 on Sunday against the Detroit Red Wings.
Fortunately for the Ducks, the game is on home ice at Honda Center, where they have had a great deal of success this season. In fact, the Ducks were 14-5-5 at home this season, and reeled off an impressive 13 game winning streak.
Unfortunately for the Ducks, that long string of home successes was interrupted rudely by these Red Wings, who took back-to-back tilts at Honda Center at the end of March. Including those defeats, Anaheim went 3-6-1 in their final ten regular season home games, and are 2-0-1 in the playoffs.
With that in mind, it would be irresponsible to say that the Ducks should be heavily favored in this game. After all, in addition to their struggles as of late in southern California, they are also nearly evenly matched with the Red Wings in a slew of categories. They are averaging a similar amount of shots per game (Anaheim holds the narrow 32-31 edge), have scored an identical number of power play goals (six), and are averaging nearly the same amount of penalty minutes per game (Anaheim at 8.83, Detroit at 9.5).
Finally, and most disturbingly, the Ducks are an anemic 1-3 in overtime games in this series, which has to drive head coach Bruce Boudreau absolutely batty. In fact, Boudreau even admitted to the media before Sunday's game that he is "pretty whipped" at the end of games by coaching against Detroit boss Mike Babcock, and conceded that "when you're trying to match wits with Mike, who has been in every pressure situation in the world, it's not the easiest thing."
When you couple the failures in crunch time and the nearly even matchup in terms of series statistics, it may be tempting to call this particular Game 7 a coin flip. For the Ducks, however, they may have the Red Wings right where they want them.
After all, the Wings may have played a slew of Game 7's in their history, but only six of them have been played away from home, and in those contests Detroit is 2-4. Also, the Ducks have begun to see signs of life from several of their key offensive contributors. After going dormant in the middle games of the series, Corey Perry has come back firing, getting nine shots on goal and an assist in the previous two contests. His nine game goalless drought is second only to an 11-game patch that he went through earlier in the season without a tally, but as fans can recall, that streak ended against….the Red Wings.
In addition to that, the Ducks have been getting solid defense from several key cogs on their blue line, including Ben Lovejoy and Cam Fowler. That is especially important in a Game 7 situation, where any miscue can have disastrous consequences, and neither player has looked particularly prone to making an error of that magnitude.
Despite these positives, the Ducks do need to do a better job of containing Detroit's two main scoring threats: Pavel Datsyuk and Henrik Zetterberg. Combined in the last two games, the pair have three goals and six assists, and have been making the most of the open ice that they have gotten. Anaheim is going to need to do a much better job of taking that space away, and doing so without getting their stick blades tangled up in Datsyuk or Zetterberg's skates, which they did several times in Game 6.
Also, the Ducks will need to do a better job of clearing traffic in front of goaltender Jonas Hiller. To his credit, he is still stopping a lot of shots, to the tune of a 2.37 GAA, but in Game 6, he was repeatedly stymied by the traffic that players like Daniel Cleary and Justin Abdelkader were able to get in front of him. With other guys like Johan Franzen and Todd Bertuzzi also capable of mixing it up in the blue paint, the Ducks are going to need to increase their physical presence in that area of the ice, and allow their goaltender to get better looks at incoming shots.
If the series holds to pattern, then it will be the Ducks who will have smiles on their faces in the handshake line. If net traffic can't be dispersed, and unless Perry can finally start to get his scoring touch back, then it might be Anaheim fans in a disappointed mood heading for the exits at Honda Center.