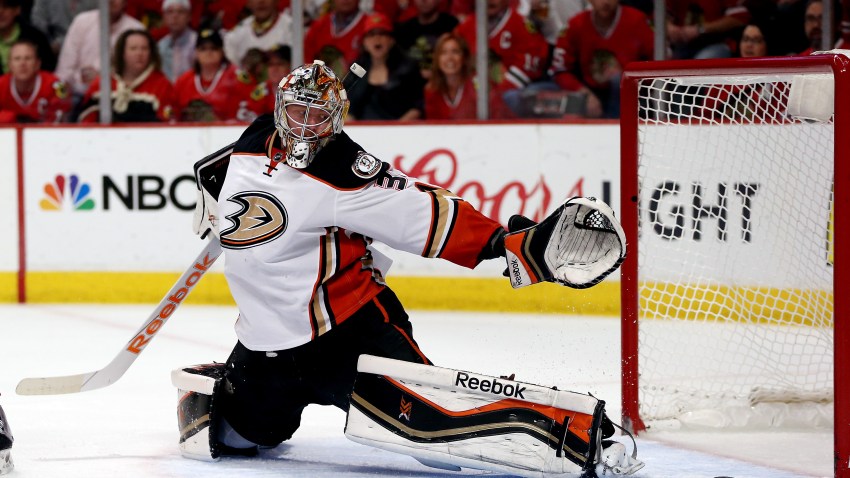 The Anaheim Ducks have an opportunity to accomplish a feat that has eluded them for nearly a decade on Saturday as they look to punch a ticket to the Stanley Cup Final against the Chicago Blackhawks, but it won't be easy.
This Ducks team has made it to Game 7's in each of the last two seasons, but they weren't successful on either occasion, losing on home ice to the Detroit Red Wings and Los Angeles Kings in those contests.
They are also going up against a Blackhawks team hellbent on preventing history from repeating itself after they too fell to the Kings in a Game 7 last season. That game, which was played at the United Center in Chicago, saw the Hawks grab an early lead, but they couldn't hold onto it as Alec Martinez's overtime goal eliminated the defending champions and allowed the Kings to ascend to the top of the NHL mountain once again.
With both teams looking to prevent history from repeating itself, we have some positives that Ducks fans can pull from the team's 5-2 loss to the Blackhawks on Wednesday night.
Exhaustion Beginning to Hit Hawks in Big Way
The Blachawks have been riding four defensemen throughout this postseason, and the Ducks' hard-hitting approach to the game is bearing fruit. Guys like Duncan Keith don't seem to mind the punishment, as the defenseman racked up three points and played stellar defense in Game 6, but guys like Niklas Hjalmarsson are beginning to feel the strain.
With his emphasis on shot-blocking and a more methodical approach to skating, Hjalmarsson has taken a ton of abuse in this series, and if the Blackhawks are going to run him out for 25 minutes of ice time in this game, he's liable to make some mistakes.
Sheltering Rundblad and Cumiskey a Difficult Task at Honda Center
The Blackhawks made an interesting change to their lineup ahead of Game 6, benching veteran blue liner Kimmo Timonen and sending out David Runblad instead for the first time since Game 1. He played a decent game for the Blackhawks, but his minutes were drastically limited as the Hawks focused on getting their top tier guys into the mix.
For the Ducks, the prospect of seeing either Rundblad or Kyle Cumiskey on the ice for Game 7 is a tantalizing one. With last line change, the Ducks can send out their top two forward lines against those blue liners, and they should get some good scoring chances and extended possessions against either player.
Getzlaf Line Should Get Better Matchups in Game 7
Even though Ryan Gezlaf had his worst game of the postseason on Wednesday, it's hard to imagine the Ducks' captain going through a similar struggle in this one. He has been the best offensive facilitator throughout the NHL this postseason, and his passing has really opened up scoring lanes for Patrick Maroon and Corey Perry throughout this series.
Maroon did score a goal on Wednesday night in Game 6, but look for him and Perry to be even more effective in this game. With the Hawks' top two lines shaken up, the Ducks' forwards should get some favorable matchups on the ice in this game, and even if Joel Quenneville is able to get Jonathan Toews out there against Getzlaf and company (something he'll likely do since he wants to avoid matchups with Ryan Kesler whenever possible), Bruce Boudreau will still get his chances to decide how the game will play out for the most part.