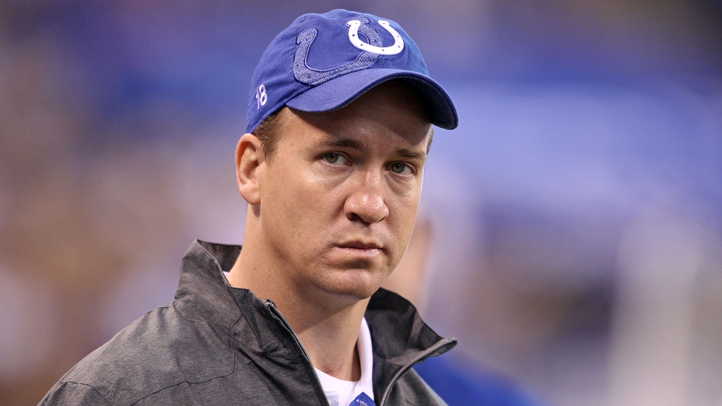 Drew Magary writes sports commentary for Deadspin, Maxim, GQ and is the author of "The Postmortal."
I don't know about you, but the divorce between Peyton Manning and the Colts can't happen soon enough for me. We've been preparing for this breakup all season long. I feel that I am emotionally prepared to deal with this now. More important, I'm ready for Peyton to go to a new team so we can then speculate endlessly as to how he'll do on that team.

One of the contenders in this Manning derby may be the Arizona Cardinals, who just hired former Bills QB Frank Reich as their wideouts coach. Reich was Peyton's old QB coach, and so many, like ESPN's Mike Sando, are already thinking that the hire was meant as bait to lure him out West.
Hiring Reich only strengthens perceptions the Cardinals will pursue Manning if given the chance. Lots of other teams will likely have interest as well. Whatever edge Reich might offer will belong to the Cardinals.
Chances are, that won't be the decisive edge when Peyton needs to choose between Arizona, Miami, Washington, the Jets, Seattle, and any other team that courts him. But let's say that Peyton does decide to head to the desert to play for Ken Whisenhunt. Here would be some of the perks involved:

1. Larry Fitz

Obviously, being able to throw to arguably the finest wideout in football (this side of Megatron, at least), would prove appealing to Manning, who's looking to win one more title before he rides off to Canton. And Fitzgerald would be re-energized knowing that he'd finally have a proper QB again.

2. A strong running game

You probably weren't paying attention, but Beanie Wells had a career year this season. In fact, he had his best game (three touchdowns) against the Super Bowl champion Giants. Wells has had issues with injuries throughout his career. But when healthy, he gives Manning the run support he's lacked pretty much ever since Edgerrin James left the Colts. Backup LaRod Stephens-Howling is brilliant catching balls out of the backfield, and could serve as Manning's own little Darren Sproles.

3. A weak division

Thanks to the Niners, the NFC West is no longer the laughingstock of the NFL. But this is still a division that sports three teams that are average at best and terrible at worst. Manning could take advantage of rebuilding St. Louis and maybe even steal a win in Seattle to give his team a leg up over the rest of the NFC, which will be extremely competitive next year.

4. A history of rejuvenating old QBs

Kurt Warner nearly won a title here, and head coach Ken Whisenhunt looks as if he desperately misses having a veteran QB to lead this team. Since Warner's departure, this has been a franchise set adrift, with no clear direction. Trading for Kevin Kolb, a move meant to stabilize the Cards, ended up setting them back. Manning would bring the spirit of the 2008 Cardinals back, and likely give Whisenhunt new life.

5. You cannot stop Patrick Peterson

It's nice to know that your punt returner will do all your scoring for you. Manning will appreciate having an average starting field position of the opponent's ten-yard line.

6. A fast playing surface in a controlled climate stadium.

Ask Brett Favre if this kind of thing matters when you're an aging QB. Picking Arizona over Washington could give Manning an extra two years of playing time.

Obviously, there are drawbacks to all this. The Cards have issues on defense, and their line was terrible in pass protection (only the Rams gave up more sacks). But Manning, with his quick trigger and his ability to lead a prolific offense, can help mask those two glaring deficiencies.
Would it be enough to win him a second Super Bowl title? All I know is that it's hard to resist the lure of the desert when Larry Fitzgerald in running free and looking for a playmate.